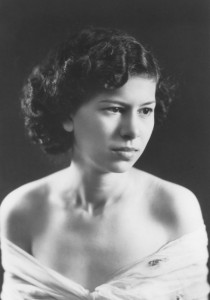 The glamorous woman in this photo turned 90 a few weeks ago. Peggy Gilbert now lives in Canada but like Reuben Solomon and his family, who I wrote about recently (here and here), she spent her formative years in Burma. In fact, she actually sang with Solomon's band, the Jive Boys, for a little while in Rangoon.
This photograph of her was taken before a Red Cross Benefit in Rangoon, in 1940 or 1941. It was sent to me by Susan McPhedran, who left me this message recently: "Greetings from Canada. My mother-in-law, Peggy Gilbert, sang with the Jive Boys in Rangoon before the war. Not only could she sing and was very pretty, she said that she could keep up with them – an important skill for a jazz singer.  She was asked to tour with the band, but her aunt refused to let her go as it was not the thing to do for a respectable young lady."
McPhedran said her family was in the process of creating a DVD for Peggy Gilbert's 90th birthday party. "My husband was thrilled to find your site as we do not have any recordings of her or the Jive Boys. (He does remember hearing her on the radio after the war when he was very young)," she wrote.
Peggy Gilbert was born Honor Fuchsia Hogan in Rangoon on August 20, 1922, McPhedran said, but she was and still is known within the family as Peggy. After her parents divorced, her mother remarried a man named Ernest Gilbert, so Peggy subsequently went by Gilbert rather than Hogan.
She most likely met the Jive Boys during her first year at the University of Rangoon. She was evacuated with the WAS (Women's Auxiliary Service) and spent the war years in India, primarily in Calcutta.  She returned to Burma after the war with her then-husband, Malcolm Mealin, and her son, Michael. The family left for England in 1948 and that was the end of her "professional career" as a singer, although she continued to sing in church both in England and Canada.
But the memory of her voice still lingers. McPhedran sent me a passage from the memoirs of a family friend, Dick D'Souza, who sailed with Gilbert's family from Rangoon to Liverpool on the Salween in 1948.  "I smile at the memory of our innocent amusements, [but] at the time they seemed quite sophisticated," he wrote. "We played charades; we had discussions on the books we were reading. Some of the passengers were good musicians and our (Burmese) senior lady passenger Daw May Nyunt had a very pleasant singing voice: her piece was I'll Walk Beside You. Peggy Mealin too had sung on Rangoon radio and had a wide modern repertoire, which favoured Cole Porter, Noel Coward and Ivor Novello. So we had a selection including Smoke Gets in Your Eyes to I'll See You Again and Someday My Heart Will Awake."
Unfortunately, unlike this instance in which I was able to find forgotten songs for a transcontinental birthday party, I couldn't locate any Jive Boys tracks featuring Gilbert. But for what it's worth, here, from the Marco Pacci collection, is another Jive Boys tune.
I dug a ditch by REUBEN SOLOMON AND HIS JIVE BOYS by tajmahalfoxtrot1