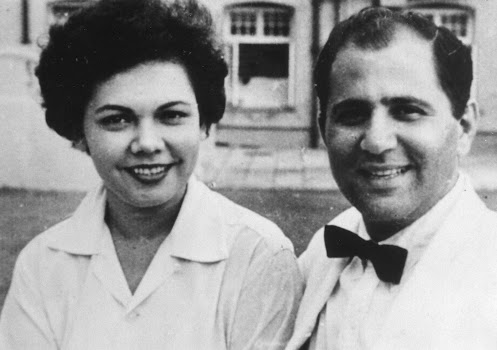 This is the second part of the Reuben Solomon story, as he told it to his wife, Charmaine Solomon, the famous cookbook writer. The first part was published last week. You can access it here.
Shoo shoo baby by REUBEN SOLOMON AND HIS JIVE BOYS by tajmahalfoxtrot1
COLOMBO, CEYLON
The contract with Sacha and his Melodists was a plum job.  My contract included accommodation and full board.  Linen was changed every day and fresh cakes of soap provided, just as for the hotel guests.  White-clad servant boys came running if we wanted so much as a glass of water.  We had a nanny to look after our daughter Mozelle, and life was good. The orchestra was made up of excellent musicians of many nationalities and, in addition to the dance music, offered the challenge and stimulation of playing classical music at the regular and well attended Promenade Concerts.  The working hours gave me enough free time to play chamber music with the Ceylon Music Society and the Ceylon Symphony Orchestra.
On Radio Ceylon, I presented a popular music programme every three weeks, alternating these with classical broadcasts. I started a small advertising agency, writing and performing jingles for various firms. One of the jingles I wrote and recorded for Volkswagen cars, won an award in Germany and continued to be broadcast for many years.  My six-month contract with the hotel kept on being renewed, and I stayed in Ceylon for a total of nine years.
During this time, despite the comfort of life in a luxury hotel, my marriage with Bonnie was on the rocks.  She left to go back to Calcutta and divorce was the only solution. Not long after, Charmaine (whom I had met before, briefly,) returned from an extended study trip to England. Since in a small town like Colombo everybody know what everybody else is doing, I heard she was back.  I phoned and asked her to go to a concert with me.  Like the well-brought-up young lady she was, she refused.  When I said that Bonnie and I were being divorced, she tried to talk me out of it, saying that this was not the best option, since she knew the trauma of being the child of divorced parents.  Mozelle was just about the same age she was when her parents split.  I did not tell her our problems, but convinced her that it was better for Mozelle if Bonnie and I didn't try to stay together  and the divorce went ahead.
Eventually Charmaine decided she liked me enough to accept my invitations.  Though she gently turned me down the first time I proposed marriage, I persisted and as you can see she changed her mind. We have had 42 wonderful years together, four beautiful children and two adorable grand daughters and two grandsons. [Update from Charmaine: We eventually had 53 beautiful, love-filled years and now have a fifth grandchild, named Ruben (the spelling is different, because his mother is German and if spelled Reuben would be pronounced 'Royben')].

A couple of years ago Charmaine declared it was ridiculous that she didn't have so much as a tape of my music.  It didn't worry me but she can be very determined when she gets what she considers is a good idea.  She tried to obtain tapes from Radio Ceylon, but in their rush towards nationalism we were told they had discarded all recordings of western music played on the station.  Nor to be defeated, she said we had to make a compact disc.  I protested that it would be expensive and she said, "So what.  Let it be my indulgence."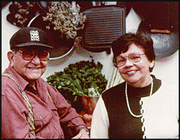 With the help of my good friend Ray Glover, a pianist with whom I've worked for many years, our daughter Nina and her musician-cum-sound engineer husband Miles Harris, Charmaine got her wish.  We now have a family CD. She also insisted, when she saw that my clarinet was showing signs of age, that I get a new clarinet like the one Pete Fountain plays.  We had enjoyed his performances on visits to New Orleans.  Once more, over my protests, she got her way and I do like playing my new LeBlanc clarinet.
My daughter Nina (who has followed in my footsteps as a professional musician) gave me a gift of a gleaming new soprano saxophone, an instrument which has recently had commercial popularity.  I quite enjoy the sound.  I don't play tenor sax any more – never did like the instrument, though it was de rigeur in the 1950s and 1960s for alto players to double on tenor.  Such was the pressure of popular music trends that I even owned a baritone sax during the rock and roll era!
AUSTRALIA, HERE WE COME! 
In the late 1950s, with two little daughters, we realised it would be prudent to leave Ceylon and settle somewhere else since I was not a Ceylonese national and had no certainty that my temporary residence permit would continue to be renewed each year.  The question was, where to go?   England was out. I had had enough of English weather during that winter of 1946.
My brother Saul said he would help in any way he could if we decided to settle in Sydney.  My brother-in-law, Charles Meyer, wrote glowing accounts of how good life was in the United States.  He did say, however, that I would be surer of a job and make much better money as a welder than as a musician.  So I took a course in welding, proved to have ability especially in aluminium welding, and earned my certificate.  We applied for, and got, our papers for the United States.
Then we found that even the small sum of money we had saved could not be changed into American dollars.  However, if we emigrated to Australia, being a sterling area (Ceylon was a Commonwealth  country), we could take the entire amount.
The next step was to apply for Australian immigration.  Being on a British passport, I had no problem, but Charmaine had to prove her bloodlines, since those were the days of the White Australia policy.  Thankfully, the genealogy of her family recorded in the journals of the Dutch Burgher Union came in useful and we were granted permission to settle in Australia.  Our original plan was to stay a short time, then change our sterling to U.S. dollars and move on to California.
One thing and another changed this plan.  For a start, Saul and I began a steady job in a popular City restaurant the day after I arrived.  For another, Charmaine said she was far enough away from her family and had no desire to move even further. We were homesick at first. We missed the luxury of our hotel lifestyle in Ceylon, but realised it was a totally unreal existence and, sooner or later, would have to come to an end. Leaning heavily on friends and relatives for comfort and company, we survived.  Those friends are still very much part of our circle.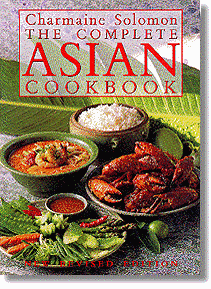 Saul's Australian wife, Shirley, the same age as Charmaine, was a tower of strength.  She had grown up in this do-it-yourself society and was able to show the ropes to a woman who had never had to cook a meal, clean a house or mind a child.  Charmaine's greatest drawback was her timidity, especially when faced with children's illnesses. Shirley, confident and experienced with children a few years older than ours, calmed our nerves and helped us over the initial teething troubles.  She is the fastest cook you ever saw, turning out a simple meal in minutes.  Charmaine, on the other hand, though inexperienced, was demanding of herself and would take hours to prepare what was, admittedly, a superb meal. "Good God, woman," a forthright Shirley would say, "You spend all morning cooking and it disappears in 30 minutes!"
Charmaine learned and adapted her own methods without sacrificing the authentic results she expects.   I was fortunate that she made cooking her hobby, spending hours after the children were asleep until I came home at midnight or later,  preparing wonderful meals. She would experiment with all kinds of food:  we might be eating in Europe one night and Asia the next.  It kept her occupied, she said.  And I loved it, though I sometimes protested.  Her perfectionism led her to prepare pizza 17 nights in a row! Though that could have had something to do with the fact that she was pregnant with our third child, and pizza was what she craved at the time.
We have lived in the same suburban cottage in Sydney for the last 40 years, and we'll not forget that it was Saul and Shirley who helped us buy it.  The house price was 5,400 pounds. After we'd emptied all the purses and shaken the savings out of our socks, we needed 800 pounds more. Might not seem like a lot now, but it was a mountain to us then. I decided to take a second mortgage.
My dear brother Saul offered me the money, saying he had it in the bank, did not need it at the moment, and I could repay it when we had the money.  I refused, because I felt I had to make it on my own.  Then along came red-headed, determined Shirley and delivered the ultimatum.
"Second mortgage?  You'll never pay it off, the interest will be so high. I insist you take the money or we'll never speak to you again."
I think she meant it too.  I caved in.  Thankfully, we were able to pay them back within two years, with Charmaine also having obtained a position as a secretary.  We'll never forget their love and generosity. Almost exactly a year after we landed in Australia, Saul and Shirley decided they would try their luck in California. We missed them dreadfully but they did well there.
Saul started work as a U.S. Customs officer. He still played casual music gigs, and Shirley got a well-paid position with many fringe benefits such as medical insurance.  They would return for short holidays from time to time, and we kept in touch – or rather, Saul and Charmaine wrote letters, keeping the news flowing.  Both Shirley and myself are talkers, not writers.
Saul loved his job as a Customs Officer, seeming to have an uncanny instinct for finding cleverly hidden drugs.  Sometimes he would simply hold a shipment of furniture or other goods, giving himself more time in which to go over them again and again.  Sure enough, he would find drugs, sometimes sandwiched between decorative wooden screens or in other unlikely places.  His persistence made many drug smugglers sorry they ever did it.  He took pride in doing his part to protect the youth of America.  He stayed in that job until his retirement.  Then, on the very day he retired, he died suddenly of a massive heart attack.  My closest brother and dearest friend, he is sadly missed.  Shirley and the children, Chris and Annette, whom he adored, chose well the words on his commemorative stone.
"Saul K. Solomon 1919 – 1990.  A kind and gentle man."
      I am fortunate indeed to have a loving family.  As an added bonus, our children's partners also enjoy the Solomon family gatherings.  One son-in -law is my financial adviser, the other is a musician who tries to help me with my computer problems.  They are both very patient men.
At the age of seventy-plus, I still play music for pleasure, having earned a living from it for well over half a century.  I am not a working musician any longer, but totally involved with a small business venture which keeps me interested.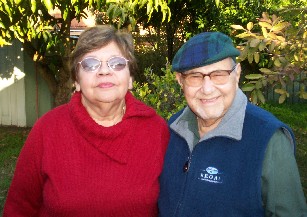 Many and many a time I think back to those youthful days in Burma with all the brothers and cousins playing music together, and indeed it served a purpose.  But I am deeply grateful for the circumstances , turbulent though they were, which drove me from the land of my birth, led me to more than one country and finally enabled me to live in a wonderful land where I can lay my head in peace at night. I close this story with a quote from the Book of Psalms (16:6): "The lines are fallen until me in pleasant places. Yea, I have a goodly heritage.  I will bless the Lord, who hath\given me counsel.
Moonlight becomes you by REUBEN SOLOMON AND HIS JIVE BOYS by Taj Mahal Foxtrot
These tracks are from the Marco Pacci collection.