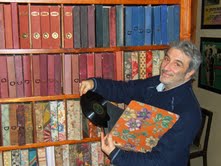 The tracks in this section are available thanks to the generosity of Marco Pacci, who has collected thousands of jazz records from across the world. New material will be added regularly. He can be contacted at Mr [dot] pacci [at] gmail [dot] com. Pacci has a special interest in Indian jazz. "I have been always intrigued by the diversified approach that the eastern world has carried on toward the western jazz idiom," he said. "Thanks to a few English and Indian collector friends, I discovered the rich Calcutta and Bombay jazz age with many local musicians participating to the development of such era."
In 2010, Monk Records issued a compilation titled Travelling with My Portable Electric Gramophone based on recordings from his collection,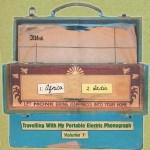 showcasing outstanding samples of eastern treatments of various well-known western compositions. "This compilation was based on material that I struggled to put together during a collectors' lifetime, attending to many of the UK's leading record fairs, but also [acquired] through swaps with collectors and purchases from regular record auctions or Sunday flea markets," Pacci said. "After more than one decade, 50 Indian 78s seem nothing in comparison with the amount of the other collections but I can assure our friends that in terms of rarity, one Indian fox trot record is much scarcer than many other 78s!"
Marco Pacci was born in Turin, Italy, in 1957 and started collecting progressive rock records when he was 16, before beginning to put together his jazz archive.  From the late '80s, he started collecting 78s. He now has approximately 20,300 records in the 78 format. They consist of:
 Jazz and hot dance in Italy This is his biggest and richest section, composed of 4,000 records. It includes very rare recordings such as an early ragtime tune from 1919 At the Jazz Band Ball by the Trianon Orchestra, Dogtail Blues  and Cross Eyed Papa recorded in Milan by Sid Phillips and the Riviera Five in 1925, Hylton Stomp by "Jazz Costantino Ferri" recorded in Rome in 1933.
Italian vocal swing This well-documented section of 2,000 records is focused on swing crooners and vocal groups that were inspired by American scat singers. These artists, include Trio Vocale Sorelle Lescano, Pippo Starnazza, Natalino Otto and Quartetto Jazz Funaro.
Jazz and Hot dance in England With 4,200 records of famous English dance such as Norman Payne and Silvester Ahola.
Jazz and hot dance in France This set of 1,560 records includes a special section dedicated to the great Django Reinhardt.
Jazz and hot dance in Germany, Austria, Czechoslovakia, Hungary, Switzerland, Belgium and Holland An archive of 2,500 records, with a focus on Italian musicians which recorded in Germany during the Second World War, either with their own groups or playing between the ranks of German bands.
Jazz and hot dance in the US A collection of 2,700 discs, with a post-war section.
Jazz and hot dance in Scandinavia A selection of 1,080 records.
In addition, Pacci has jazz records from Argentina, Japan, Singapore and Thailand.
Here's a selection of Marco Pacci's jazz and swing records made in India, arranged by artist.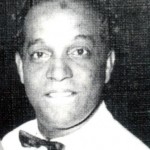 Chic Chocolate
Sides by the legendary trumpet player, known as the Louis Armstrong of India, and his band, the Music Makers. Click here.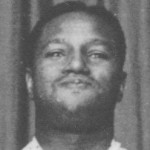 Teddy Weatherford
Sides cut by the African-American pianist with several outfits, including the All Start Swing Band, Paquita and Zarate, Bob Lee and more. Click here.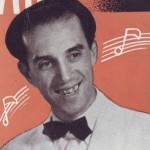 Ken Mac
Tunes by the long-time Anglo-Indian band leader. Many feature Beryl Templeman on vocals. Click here.

Reuben Solomon and his Jive Boys
Songs recorded by the Burmese clarinet player in Calcutta, during the War years. Click here.

Theodore's Taj Mahal Hotel Orchestra
Tracks by the family band from the Bombay suburb of Vile Parle.  Click here.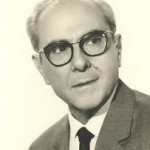 Francisco Casanovas
Dance tunes by an orchestra led by the Spanish conductor, who spent many years in India. Click here.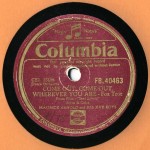 Maurice Arnold and his Jive Boys
Tracks by Arnold. Click here.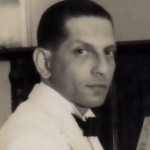 Ted Frangopoulo
Tunes by the Calcutta band leader, with vocals by the Hutson Sisters. Click here.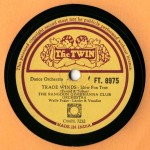 Rangoon Gymkhana Club
Cuts by the orchestra of the pre-war band of the famous Burmese club. Click here.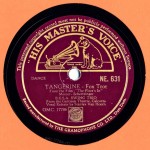 BESA Swing Trio
World War II Recordings by the Bengal Entertainment Services Association. Click here.

Hugh Bert Orchestra
A disc by a 1940s band from Bandra. Click here.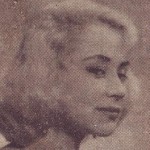 Pam Crain
Early tracks by the Calcutta crooner. Click here.