(This is the second part of the BBC documentary Bombay and Jazz. I wrote about the first part last fortnight here.)
Quite improbably, the maestro mispronounces his own name. "Hi," he calls in an accent that emerges from the interstice between Mylapore and Miami. "I'm Shank-er."
Jazz, that expression of iconoclastic individualism, is a lifelong quest for your own voice. Jazzmen are obsessed with finding a distinctive way to parse a phrase, with creating a characteristic way to sail just over the beat or under it, with blowing out notes in a tone that's so unique the music proclaims: Behold, it is I.
Improvisational musician L. Shankar found the song of his soul early. The son of violinist V. Lakshminarayana Iyer, Shankar was a child prodigy. He started vocal lessons at two, began violin at five and gave his first concert at seven. In 1975, aged 25, he co-founded Shakti with British guitar player John McLaughlin and tabla legend Zakir Hussain. Even if its three albums didn't quite set the global charts afire, Shakti was a raging critical success. Shankar's compositions were hailed for their maturity, for their assurance, for how effortlessly they projected his very own voice.
Unfortunately, he's been stuttering in the Babel tower ever since.

After Shakti was disbanded, Shankar attempted to learn a new vocabulary. He wanted to be a pop star. It's a blustery morning in 2002. Outside his Bandra hotel window, the Arabian Sea roars with grey monsoon fury. Shankar has finally emerged from his slumbers, well deserved after an energetic performance the previous evening. Even this early, he's wearing a black turtleneck exactly like the one he wears in his publicity photos. His hair is fashionably tousled. And in a confused creole that echoes his melodic muddleheadedness, Shank-er—who has lived in the US since 1969—hold forth on his most profound musical influence: Mahatma Gandhi.
"He like is one of the guy who sacrificed so much, he had so much struggle, but he is one of the strongest person I have ever met. He has had so much difficulty with the British army and everybody else but they couldn't shut him up really and he really sacrificed himself. He didn't want a post and he did it for the struggle and whatever he believed in the cause. He could have been the prime minister. He doesn't like any of the stuff. He really believes in India. But many of the time people misinterpret it and politics is politics and that's different stuff but he really believed in it to free people. He buy one man did what no one could do previously. He fred India. Just like that, I want total freedom in my music,'' Shankar proclaims.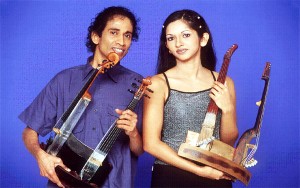 In this latest avatar, Shankar (he's long dropped the L) is attempting to capitalise on the current vogue for alluring female violinists who also tug at the heart strings. It's a craze that was sparked by the sultry Vanessa Mae and given impetus by the Dixie Chicks. Shankar has attempted to clamber onto the bandwagon by enlisting the services of Gingger, with a double G – the Los Angeles-born daughter of his brother, L Subramaniam. The duo recently did a five-city tour through India, accompanied by percussionists Shafaat Ahmed and Sivamani.  To hear Shankar tell it, he and Gingger are all the toast of the West. They're No 1 on the Billboard charts, he says. What he fails to emphasise is that he's talking about the digital video disc chart, scarcely an accurately indication of musical popularity.
Shankar is given to frequent name-dropping. The ghosts of Frank Zappa, Peter Gabriel, Phil Collins, Bruce Springsteen, Bono Van Morrison hover in the hotel room. Again, there's some economy with the truth. Shankar has merely featured these rock legends as guest artists on his albums or has been a minor sideman on their's; the extent of these collaborations, for the most, has been minor.
Still, it would be boorish to dismiss Shankar out of hand.  For one, he's worked hard to try to establish his double-violin as more than just a curiosity. He devised the space-age instrument, a wondrously gleaming thing with two necks, in 1978, soon after producing an album for Zappa Records. He needed to overdub a whole range of string-instruments, from double-bass to violin. Because he couldn't find sessions musicians who could render the Indian ornaments and styles he wanted, Shankar ended up having to play all the instruments himself. This implied having to haul them around, too. There was also the problem of sound engineering at outdoor concerts. In an attempt to mask the whistle of the wind, audio technicians would cut out higher frequencies – and alter some of the most achingly beautiful notes Shankar coaxed out of his violin.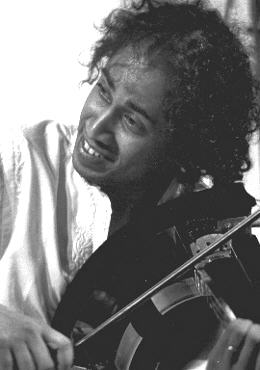 Shankar took four years to solve the puzzle Then he pasted together a cardboard model of the contraption, which he coaxed instrument maker Ken Parker to turn into metal-and-steel reality. Shankar cancelled all his engagements for two months. He and Parker worked ten hours a day in his New York studio, experimenting with different materials and shapes before he was satisfied. In addition to giving Shankar a range of 5 ½ octaves, the double violin has an array of harmonic devices that allow him to sound like a full orchestra. His task didn't end there. Shankar had to develop new techniques for playing his new instrument. It's heavier than a conventional violin, so playing it is physically tiring. Because of the greater angle, the bowing is different. "It's like playing two violins at the same time,'' says Shankar.  But he adds: "It's musically more satisfying."
But he's more than the designer of a new instrument. Shankar is a living critique of the notion of purity that rightwing political parties are attempting to burden us with. Shankar refuses to subscribe to the idea that Indian music is the most advanced in the world, or that it should be guardedly pristine. His music has doesn't yearn for some imagined Golden Age. Instead, his musical cosmopolitanism struggles to demonstrate that one can't rewind to the future. "Obsessing about purity springs from fear of freedom,'' Shanker pronounces. "It results in being arrestment of your ideas." He's got the tone right. So what if the syntax isn't?
Here are links to the rest of Bombay and Jazz: Part 3, Part 4, Part 5 and Part 6.