Gimme Music by Pam Crain by tajmahalfoxtrot1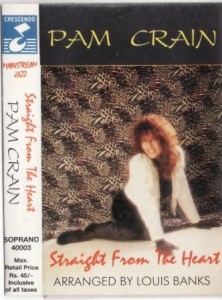 Pam Crain, who passed away on Aug 14, was one of the finest jazz musicians India has produced.  On stage and off, she displayed the generosity that is such an essential characteristic of jazz. Here's what the writer and filmmaker Ruchir Joshi said on his Facbeook page: "Just heard Pam Crain moved on down the line. RIP Pam. Used to be awed watching her sing. Then, somehow got to know her and [her husband] Don [Saigal] when I was a teenager and I'd go to their house near the St.Xavier's back gate [in Calcutta] and she'd lend me precious albums without any questions. "Just bring it back when you're finished listening. Don't add to the scratches." Some unknown kid walking away with her rare jazz vinyl and that's all she ever said to me.
The adman and musician Stanley Pinto had these recollections about the diva:
"In 1961 I was playing in a band at the Hotel Nataraj on Marine Drive, Bombay. One night, a European couple sitting at the far end perked up when we played a jazz standard, clapped, and started sending us one request after another for jazz ballads and songs.
"Then the gentleman came up and said Would you mind terribly if my wife came up and sang a song with you?  And that's when I met Pam Crain. She'd just married John Duncan, the dashing young Managing Director of India Foils, and they were on their way to a honeymoon in Europe.
"A few months later, I met her again, selling poppies on Poppy Day with others of the British Women's Association, on the pavement outside Firpo's restaurant on Chowringhee, Calcutta. I'd arrived there a few days earlier to join the Firpo's band. Pam immediately took me under her wing, introduced me to the European community in the city, and John and she became my great friends.
"A different life later, when [my wife] Yvonne and I arrived in Calcutta in 1970 to start the first Lintas branch office in India, John and Pam had divorced, Pam was a single mother, singing professionally again. We saw a lot of her at the Blue Fox, and she came to our home often, to drop her daughter Aileen (Aileenie, we called her) off for the day with Yvonne.
"We didn't meet very often over the last thirty years but when we did, the years would fall away, and we were kids again, remembering the old days and the good times of a jazz life that is long gone."
Like so many musicians of her generation, Pam barely recorded. Thanks to a recent batch of sides acquired by Marco Pacci, fans now have access to her earliest tunes – a clutch of pop sides she cut in the mid-1950s. At the bottom of the page is her first recording, one side of a 78 made in 1954 with a band called the Lance O'Neil Wagoneers. (The other side featured another Pam — Pamela McCarthy. Details about her here.)
Pam Crain went into the studios againt the next year, to make another 78, this one with Jimmy Ravestee and his Orchestra. The tunes they recorded were Island in the Sun and Fire Down Below. (Discographies suggest that she later made a record with the Cecil Dorsey orchestra. I'd be most grateful for a digital copy, if someone out there has it.)
There's a two-decade gap between this record and the next time Pam appeared on vinyl on the cut  at the top of the page, digitised by Ajay Noronha. It's from an album called Explorations, a live recording of a concert at Calcutta's Kalamandir in 1978, featuring Pam Crain, Braz Gonsalves, Louis Banks, Carlton Kitto and a host of other talented musicians.
In 1992, Pam made an album called Straight From the Heart, with Louis Banks on keyboards, but it was only released on cassette and I don't have the gear to digitise it.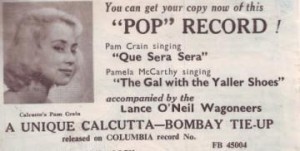 Here's a sampling of pieces about her that have followed her passing:
Pam's death is a "huge loss", writes Narendra Kusnur in Mid-Day.
"We never had a bad day. Not a single day went by when I didn't kiss her," her husband Don Saigal told the Times of India.
"She told me that she had just got back from a trip to Singapore where she'd gone to explore an alternative new method for a facelift 'because frankly, I have so many tucks behind my ears that there's no space for any more!'" Anjum Katyal remembers.
But was Pam's Swinging Calcutta actually a mere trick of memory? The depiction of the city as the Beirut of India is a gross exaggeration, Kanchan Gupta writes in the Pioneer.
Whatever Will Be, Will Be by Pam Crain by tajmahalfoxtrot1
Island in the Sun by PAM CRAIN by tajmahalfoxtrot1
Fire Down Below by PAM CRAIN by tajmahalfoxtrot1
Here, finally, is a tribute to Pam by Susheel Kurien, director of the excellent documentary Finding Carlton.