Tangerine by B.E.S.A. SWING TRIO by tajmahalfoxtrot1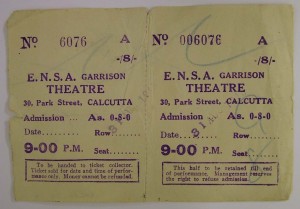 In 1939, as Britain entered World War II, it established ENSA – the Entertainment National Service Association – to keep the troops in good spirits. Singers like Vera Lynn and actors like Laurence Olivier toured Europe to perform for field units. In August 1942, three months after the Japanese had driven the British out of Burma, Calcutta was filled with Allied soldiers who had fled South East Asia and were attempting to regroup. That month, members of Calcutta's British community decided to form BESA – the Bengal Entertainment Services Association.

The Lecture Hall of St Xavier's College on Park Street was turned into the BESA Theatre and, on Aug 14, 1942, the group gave its first performance – a show called Besabuzzin. By 1944, writes Hemendranath Das Gupta in his four-volume opus The Indian Stage, BESA was mounting nine performances a week. The works of George Bernard Shaw were popular, but in April 1942, the students and staff of Shantiniketan staged Tagore's dance-comedy Balmiki Prativa.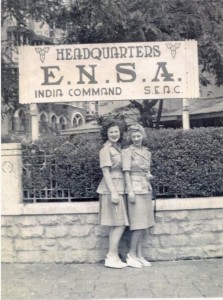 BESA also conducted dances, and this trio, with vocals by Stanley van Hoorn, seems to have performed at some of them. Andy Gemmell, who recorded tracks featured in this article about Bandra during the war, also performed at BESA events.
Late in 1944, BESA merged with ENSA and took shows on the road through India and Burma.  Among the ENSA performers who came to India was Vera Lynn, as also John Gielgud, who left this account of his trip to Bombay:
"When I was in Bombay at the end of the war I was lying naked in my hotel room when the telephone rang. A voice said there was a lady to see me. Well, I'd been flying all week and was too tired to see anyone. But five minutes later the door burst open and an enormous Indian lady in a green sari looked at me trying desperately to cover myself with a tiny towel and announced: 'My name is Mrs Sabawala. My house is music in stone. Will you come to lunch tomorrow?' It turned out she had played Madame Arcati in Blithe Spirit with the local amateurs. Her house had a huge gate with a cardboard crescent moon pinned to it. Nothing to drink.
And terrible chairs. As you sat down your back was lacerated by the teak. You had to practically go down on your hands and knees to look out of the windows. The whole thing was absolutely mad! There was a tiny poet in a white suit who read a long poem he'd written in my honour. It once happened with Alan Ginsberg in New York too. I seem to inspire poetry in strange people. But I was so startled by the Indian poet that I stepped back in alarm and fell in a pool covered in lilies."
These recordings are from the Marco Pacci collection.
On the Sunny Side of the Street by B.E.S.A. SWING TRIO by tajmahalfoxtrot1