South American Way by Paquita & Zarate by tajmahalfoxtrot1
A few months ago, I wrote here about the singer Myrtle Watkins, who performed at the Taj in Bombay during the winter of 1935. She had made her reputation as a jazz singer in Europe but then, in a transformation I couldn't quite track in the archives, seems by the late 1930s to have started performing Latin American music under the name Paquita, along with her husband, the Mexican violinist Sam Zarate.
Between November 1941 and December 1942, Paquita and Zarate cut more than a dozen discs in India, backed by the African-American pianist Teddy Weatherford, like the one above,  South American Way.  The confusion about the performer's identify arose when a discography published in the jazz magazine Storyville said that Paquita was actually the stage name for Myrtle Watkins. But I wasn't able to find other evidence for this, and the photos I had of Paquita and Watkins (reproduced above) were too indistinct to be able to make a clear identification either way.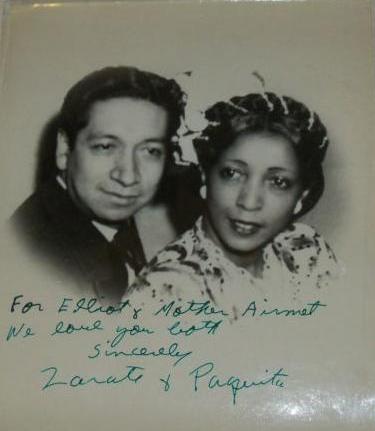 But recently, a generous reader – improbably, from Utah – sent me a photo of Paquita that matches perfectly with my grainy photo of Myrtle Watkins. "I have some wonderful photos and information that may help with the identification of Paquita & Zarate," Angie Bourdos, who runs a gift shop in Salt Lake City said in a comment she left on the Foxtrot site. "I have posted and original signed photo from the 40s in Reno Nevada along with a collection of other original autographs, referring to Mother Airmet  and Elliot Airmet from this duo."  Quite by coincidence, a few days later, a website that sells photos published a much clearer, autographed photo of Myrtle Watkins.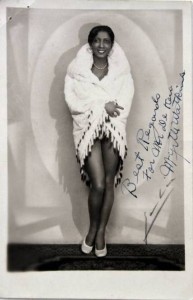 Angie found the photo in the collection of a man who ran a Greek restaurant called Cosmo's in her hometown. She said that one of his friends would take risqué photographs of performers, which an artist named Jack "Dude" Larsen would paint in water colours to be hung in the restaurant.  Larsen also touched up photos for other performers, singers and dancers and puppeteers. The Airmet family, to whom this photo of Paquita and Zarate is signed, had a group called the Airmet Marionettes.
"You should take a moment to look at the photos I have got," she said. "They all go together in one big endless historical story! Salt Lake had more excitement back then compared to now! Ha." Thanks, Angie, for proving conclusively that the African-American jazz singer named Myrtle Waktins did indeed later become a performer of Latin American standards in India. But now, we're left with the puzzle of what exactly Paquita and Zarate were doing in Salt Lake City.
Nonetheless, their Indian recordings left a significant impression on the subcontinent. My friend Sidharth Bhatia, whose book on rock and roll in India will be out in a few months, sent me a link to this song, Pehle Toh Ho Gayi Namaste Namaste from the 1949 film Patanga, which seems to be inspired by South American Way. The music director was C Ramchandra, who used Latin rhythms as the basis for several of his tunes.
For what it's worth, I'm also including a recording of South American Way by the Brazilian samba singer and Broadway star, Carmen Miranda, which has a much more pronounced samba beat. (Thanks to Heiko Mohn for the Paquita and Zarate recording.)