This week's selection from the Marco Pacci archives features two tunes  recorded in Calcutta in 1941 by a mysterious duo who called themselves Paquita and Zarate. Both the melodies are swing standards, though as this postcard they signed for an Indian fan shows, the vocalist and her violin-playing partner are dressed up to perform Latin American numbers. In fact, an advertisement I found on the internet states that they perform Mexican song, music and dance.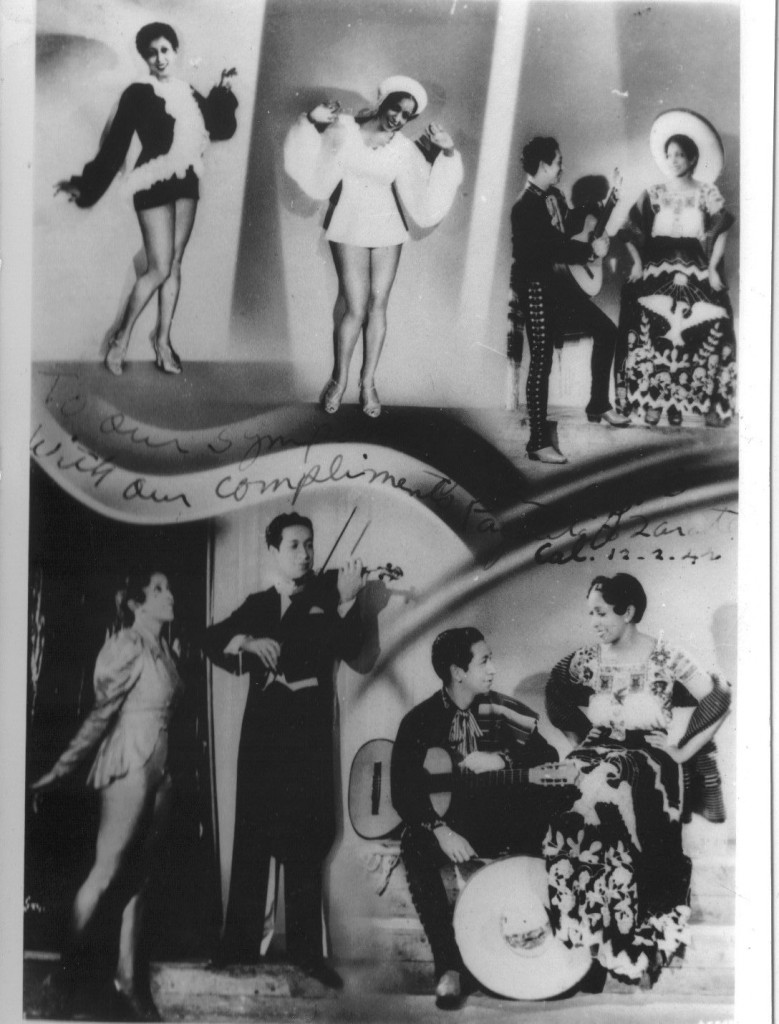 I haven't been able to find out much about the pair, except for stray references to them in Billboard magazine in the 1950s. Even their first names are unknown. One advertisement in 1958 boasts that Zarate and Paquita were "widely known as concert artists and nightclub entertainers [and] are also known as composers and recording artists". They had evidently released a religious album "containing the hymns and prayers embracing the faith of all people". The ad said that the record was "receiving favourable comment from all who have heard it and those who already have it in their homes say it should be in all homes". Other Billboard articles suggest that they spent the 1950s as performers at variety shows in the US that featured jugglers and magicians, in addition to musicians.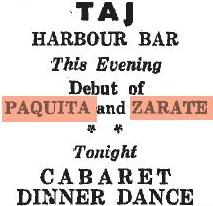 Advertisements and articles in The Times of India place them in Bombay in the winter of 1941, performing at the Taj and Green's Hotel. They made these recordings in Calcutta later that year.
But there's an intriguing twist to the tale. According to a discography published in the jazz magazine Storyville, Paquita was actually the stage name of an African-American jazz singer named Myrtle Watkins, who had performed at the Taj in 1935. If this is true, it makes one wonder why Watkins – who had established a rather solid reputation in Europe in the 1930s – decided to take on a Mexican alibi and when she did so.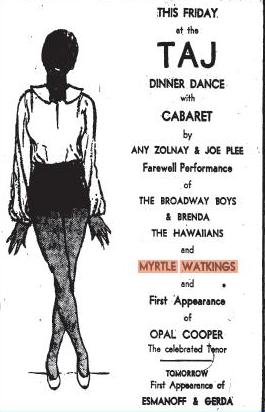 Myrtle Watkins first appears in my research material in 1928 as a member of the cast of a revue called Blackbirds, which was well reviewed in the US. By 1930, she was a dancer in Paris, one of the scores of African-American performers who had moved to Europe to escape the racism of the US and to trade on the French fascination for "negro" culture.
Through the 1930s, African-American newspapers such as the Defender and the Afro-American reported Myrtle Watkins' movements through Europe – she was in France, Belgium and Romania, among other places. In 1934, for instance, the Chicago Defender reported from Paris that the colourful African-American hostess Ada "Bricktop" Smith had postponed the opening of her new cabaret on rue Pigalle pending the arrival from Spain of Watkins, who "is appropriately publicised on this continent…as the world's most fascinating entertainer".
The next year found Watkins at the Taj in Bombay, where newspapers reported that she was laid low by a terrible bout of malaria. There's little else in the local newspapers about her time here, though the Times of India complicated matters for future researchers by frequently misspelling her name.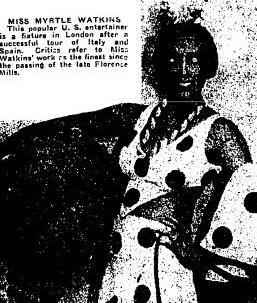 One report in the Afro-American described her as the Josephine Baker of Spain. "Miss Watkins, who is a very good dancer, with plenty of pep, is pretty and has a shapely figure," it said. "She has been making conquests in high society and on her string is the marquis of one of Spain's bluest blue bloods. She lives at the Florida, one of the best hotels in the city, has a fine roadster, records for Spanish gramophone and radio, and entertains at one of the leading cabarets." That experience, perhaps, provided her with material to help her metamorphose from Myrtle into Paquita.
The only image I've been able to find of Watkins is rather indistinct, so it's difficult to compare her features with Paquita's (though those noses do seem remarkably similar, don't you think?).  Keeping that in mind, the most compelling evidence I've found to suggest that Myrtle was indeed Paquita comes from the Chicago Defender in January, 1938. It said that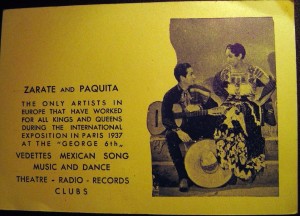 since the Paris Exposition had shut for three months, Myrtle Watkins and her "Cuban-American orchestra that enjoyed a lovely success…at the exclusive George V restaurant" on the exposition grounds had moved on to another engagement. As it turns out, a promotional card I found on the internet for Zarate and Paquita states that this duo were also at an Exposition restaurant – but the copy says it's the George 6th. I'd love to believe that there's a typo here somewhere. I still can't understand whether it would make commercial sense for an African-American jazz singer to pass as a Mexican musician in the 1930s, though perhaps a decision like this would have afforded Watkins greater personal freedom in the racially segregated US. I wonder how audiences reacted to this transformation and why no newspaper articles mention it.
Even if she had played at being Paquita in 1937, she was back to being Myrtle Watkins the next year. The New York Amsterdam News reported that she was the second emcee at the Big Apple club in Montmarte run by Bricktop. The article describes Watkins as "one of the cleverest singers and dancers" they had ever seen. Then it adds an even more curious detail: "She is now married to an East Indian, Lall Singh. She has accepted the Hindu faith and in the streets, she affects Eastern garb."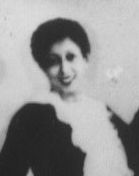 After that, her name disappears from the newspaper and magazine archives I have access to – and Paquita and Zarate make their appearance. I've tried all sort of search combinations but there's nothing to nail down this indentity switch conclusively. However, even as I've reached a dead end in real life, I can still use my imagination. Tonight, Myrtle Watkins of Baltimore will flounce through my dreams in her avatar as Paquita Singh, clad in Eastern garb, singing St Louis Blues.
St. Louis Blues by Paquita and Zarate by Taj Mahal Foxtrot