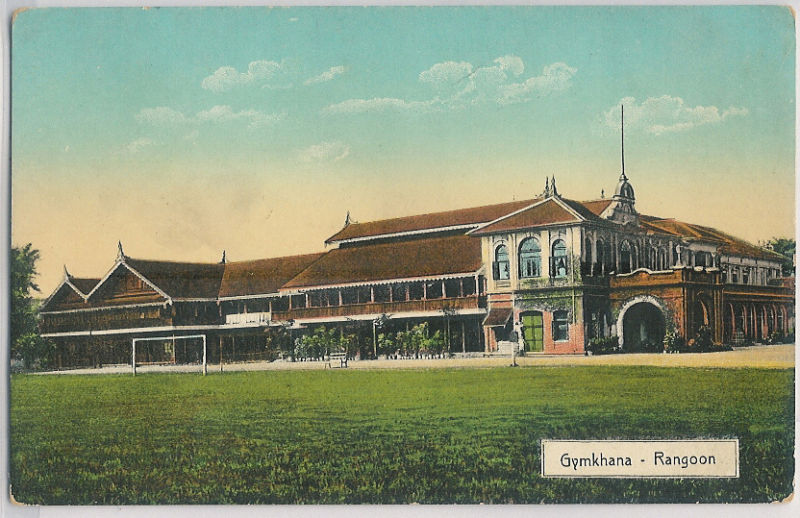 Like many colonial towns, pre-war Rangoon had its share of clubs at which the upper classes sought diversion. The Pegu was the town's most prestigious establishment, but the Rangoon Gymkhana Club,  on Halpin Road, built in 1877, also had its share of A-Listers.
William Gordon Burn-Murdoch, a painter and explore who visited Burma in the early 1920s, seemed rather amused by the balls at the Gymkhana Club. "I danced with ladies in ladies in Gainsborough hats, their feathers tickling my eye, in pork pie hats and Watteaus, and picture hats like sparrows' nests," he wrote in his book From Edinburgh to India and Burmah, published in 1924. "There were dumpy little ladies and tall stately Junos ie compared with Eastern women. It was so funny to see men in men in suits of blue serge, tweeds or tussore silk, whirling around with ladies in muslins of every lovely colour…It is hot now, they say, but look at the fun they have, especially the ladies."
I haven't been able to find much information about the bands that played at the Rangoon Gymkhana Club, except for this small snippet in Reuben Solomon's story about his early life. "Gigs in Rangoon included playing with Wally Fagin's band at the Rangoon Gymkhana Club and wherever a live band was needed," he wrote. " In spite of my tender years, I managed to get quite a lot of work. "
These recordings by the Rangoon Gymkhana Club Orchestra feature Fagin as leader and orchestra, but the labels don't give much information about anything else. It isn't clear when they were recorded and though they're stamped "Made in India", it isn't apparent in which city these sides were cut.
They're from the Marco Pacci collection.
Melancholy baby by RANGOON GYMKHANA CLUB by tajmahalfoxtrot1