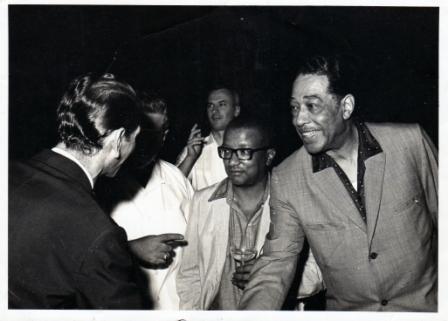 This photo, featuring Duke Ellington and Billy Strayhorn shaking hands with the great tenor saxophone player Rudy Cotton in Delhi in 1963, was sent to me recently by Percy Khatow, the Indian musician's son. As regular readers of this site know, Rudy Cotton was born Cawas Khatau and descended from a long line of producers of Parsi drama. I had the pleasure of speaking to Percy Khatow briefly when I visited the UK last fortnight. Though he has a condition that makes it difficult for him to conduct long conversations, Percy called to ask if I'd received the photos and brochures he'd taken the trouble to email me.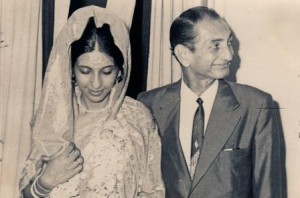 Sadly, Percy's sister, Zenia, had passed away just three weeks before I spoke to him.  Despite the recent loss, Zenia's husband, Tony Parr, was generous with his time and sent me a long message about the family. Rudy Cotton married Nargiz Nanabhai Balaporia in 1938. "They had two children, my late wife Zena and Percy," Tony wrote. Zena was born in Rangoon in 1939, and Percy was born in Bombay in 1946.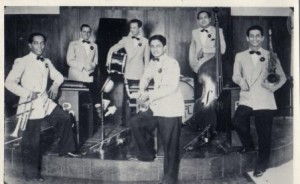 I'd tracked Percy Khatow down thanks to Lana Whitney, who sent me a message from Australia a few months ago. "I often find myself Googling musicians that I've known and Rudy Cotton in particular," she wrote. "I was born in Delhi and grew up there with my mother who was Anglo-Indian, originally from Calcutta.  My father was Slava Tairoff, a Russian musician who grew up in Shanghai and ended up in India and to meeting my mother.  He had a big band and a lot of musicians I knew had played with him at some time.  He then went to Ceylon and then on to Singapore where he played at the Tanglin Club for a couple of decades.  Rudy and Slava were friends and I was good friends with Rudy's children.  In fact, his daughter Zena just died in the UK this month.  We were also friends with Ken and Doris Cumines."
Lana added: "Rudy is the reason I'm so mad about the tenor sax, in particular, and I still reckon he's up there with the best," she wrote. "He took me to a Duke Ellington concert at Delhi Uni and although Bill Strayhorn played that night I was a very happy girl especially as a few musicians including Paul Gonsalves went back to Laguna, the restaurant where Rudy was employed, and jammed all night."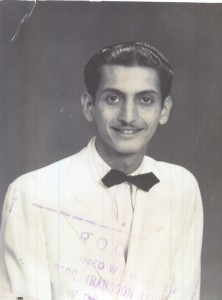 Lana isn't the only person who remembered Rudy Cotton fondly.  The lawyer Soli Sorabjee first heard Cotton play at a jam session in the Mumbai suburb of Chembur in 1953 and was blown away. "Rudy's performance left me in no doubt that was the greatest living Indian tenor saxophonist," Sorabjee later wrote. "His tone and his phrasing were so close to Lester Young that I could have sworn I was listening to one of Prez' solos."
Cotton moved to Delhi early in his career and later found a patron and friend in Sorabjee, who would send him Parsi food, especially when he was ill.
Cotton's sense of humour, Sorabjee recalls, "had a Parsi touch about it". The saxophonist "had jokes for all occasions and for persons of different ages and backgrounds. As a raconteur, he was par excellence. It was a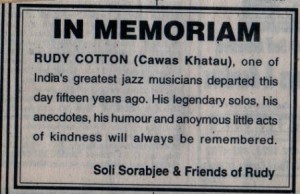 treat to watch him relate incidents, his eyes, his gestures, his movements". As a child, Sorabjee's son Hormazd, who is now a successful magazine publisher, would beg Cotton to repeat a standard witticism: "God asked Moses to come forth. But he slipped on a banana peel and came fifth."
Rudy died in Delhi in 1985.
Rudy is among the musicians on this version of Three Dreams, by Teddy Weatherford and his Band. This track, from the Marco Pacci collection, features the singer Kitty Walker.