Earlier this week, I met up with Veronica Balsara,  who I really wish I'd interviewed for the book. She has a sharp memory for quirky detail and vivid way of telling stories that kept me enraptured for an entire morning. Balsara is the daughter of Sybil Hutson, who, along with her siblings Merlyn and Ailsa, performed as the Hutson Sisters during the war years. As Balsara recalled the career of the Hutson Sisters, she also told me about her own life as a dancer at the Calcutta's Grand Hotel. A couple of hours into our conversation, she dropped in a detail I'd never heard before: the hotel is said to be haunted by the ghost of the great African-American pianist Teddy Weatherford, who died in 1945.
Balsara had first-hand knowledge of this. Late one night, as she was returning her room after a performance, she said, she saw an apparition of Weatherford, wearing a brown suit, looking sadly out of the balcony. At first, she thought that one of the West Indian cricket players staying in the Grand at the time had strayed into the staff quarters. But Balsara soon heard other staff members telling of strange knocks on their doors in the middle of the night and of magical piano music the distance.


Weatherford, who had been born in West Virginia, left the US in 1926 to make his career in Asia. He'd been in India since 1936, when he started performing at the Taj in Bombay. He moved to Calcutta in 1941. Four years later, a cholera epidemic swept the city. Weatherford was among its first victims. Balsara said he'd contracted the disease after his wife fed him a custard pudding to get his strength back up. He died at the age of 43. Stories about him stalking the corridors started shortly after.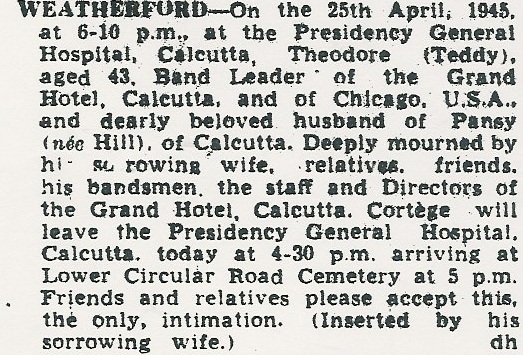 The band leader Sonny Lobo told Balsara that there were times he couldn't bring himself to sit on his piano stool because he could feel the unseen presence  already occupying it. In addition, the hotel's waiters would never sleep in Prince's after they'd finished their duties. Every time they did so,  someone would come by and pull off their sheets or throw water on them or turn on the lights. To ward off any disruptions, Balsara said, the dancers would gather before each performance to say a prayer for unhappy souls.
When I visited the Oberoi Grand last year, the general manager failed to mention Weatherford's ghost. But here, from the Marco Pacci collection, is more of his haunting music.
The Darktown Strutters Ball by TEDDY WEATHERFORD by Taj Mahal Foxtrot
Birth of the Blues by TEDDY WEATHERFORD by Taj Mahal Foxtrot