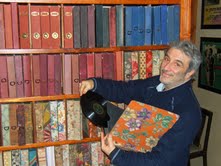 Starting this week, Taj Mahal Foxtrot is delighted to include a new selection of archival recordings. On the right, you'll see a logo for the Marco Pacci collection. It features tracks that have generously been made available by an Italian collector of that name, who has amassed thousands of jazz records from many different parts of the world. He has a special interest in Indian jazz. "I have been always intrigued by the diversified approach that the eastern world has carried on toward the western jazz idiom," he said. "Thanks to a few English and Indian collector friends, I discovered the rich Calcutta and Bombay jazz age with many local musicians participating to the development of such era."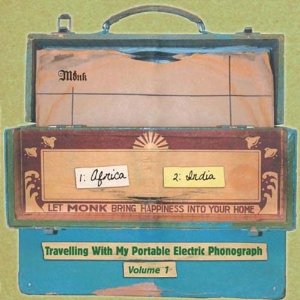 In 2010, Monk Records issued a compilation titled Travelling with My Portable Electric Gramophone based on recordings from his collection, showcasing outstanding samples of eastern treatments of various well-known western compositions. "This compilation was based on material that I struggled to put together during a collectors' lifetime, attending to many of the UK's leading record fairs, but also [acquired] through swaps with collectors and purchases from regular record auctions or Sunday flea markets," Pacci said. "After more than one decade, 50 Indian 78s seem nothing in comparison with the amount of the other collections but I can assure our friends that in terms of rarity, one Indian fox trot record is much scarcer than many other 78s!"
Marco Pacci was born in Turin, Italy, in 1957 and started collecting progressive rock records when he was 16, before beginning to put together his jazz archive.  From the late '80s, he started collecting 78s. He now has approximately 20,300 records in the 78 format. They consist of:
Jazz and hot dance in Italy This is his biggest and richest section, composed of 4,000 records. It includes very rare recordings such as an early ragtime tune from 1919 At the Jazz Band Ball by the Trianon Orchestra, Dogtail Blues  and Cross Eyed Papa recorded in Milan by Sid Phillips and the Riviera Five in 1925, Hylton Stomp by "Jazz Costantino Ferri" recorded in Rome in 1933.
Italian vocal swing This well-documented section of 2,000 records is focused on swing crooners and vocal groups that were inspired by American scat singers. These artists, include Trio Vocale Sorelle Lescano, Pippo Starnazza, Natalino Otto and Quartetto Jazz Funaro.
Jazz and Hot dance in England With 4,200 records of famous English dance such as Norman Payne and Silvester Ahola.
Jazz and hot dance in France This set of 1,560 records includes a special section dedicated to the great Django Reinhardt.
Jazz and hot dance in Germany, Austria, Czechoslovakia, Hungary, Switzerland, Belgium and Holland An archive of 2,500 records, with a focus on Italian musicians which recorded in Germany during the Second World War, either with their own groups or playing between the ranks of German bands.
Jazz and hot dance in the US A collection of 2,700 discs, with a post-war section.
Jazz and hot dance in Scandinavia A selection of 1,080 records.
In addition, Pacci has jazz records from Argentina, Japan, Singapore and Thailand.
"I dedicate a very big part of my everyday life to record collecting and my passion affected not only my holiday and free time but also relationships with partners and with friends," Pacci confessed.  "All this couldn't have ben possible without the constant support of my wife Cristina and the love of my parents Romano and Sara, who not only tolerated but often encouraged this deep passion."
Pacci adds, "My main pleasure collecting 78s is to preserve for posterities rare documents of our Italian national heritage as well other branches of jazz heritage, all around the world. Despite the difficult economic situation in Italy nowadays, I'm looking for a sponsor in order to digitise my Italian and swing collection: any help or proposal will be taken in consideration."
Thanks to the ever-enthusiastic Suresh Chandvankar of the Society of Indian Record collections for making the connection to Marco Pacci.
Here, then, are the first tracks from the Pacci collection. They feature the African-American pianist Teddy Weatherford and the Anglo-Indian vocalist Pepita. The record was recorded by Columbia in September 1941 and is marked COL FB 40067.  Side one features the tunes You Stepped Out of A Dream, Boa Noite and I Yi Yi Yi. Side two features Who, Moon Over Burma and Minnie From Trinidad.
UPDATE: Shortly after posting these tracks, I received a note from Pepita's niece, Gloria Moore, who lives in Australia. She says that her aunt was born Bessie Elizabeth Thomson  and was an Armed Forces Sweetheart during World War II. She later married a Swiss man named Engler, who worked for Volkart. That would explain why Pepita's name continues to appear in advertisements for entertainments at the Taj and Green's well in the 1950s. She later remarried, and took the surname McIlhenney.

Piano medley part 1 by Teddy Weatherford with Pepita by Taj Mahal Foxtrot
Piano medley part 2 by Teddy Weatherford with Pepita by Taj Mahal Foxtrot