Before the African-American pianist Teddy Weatherford arrived in Bombay in 1935, he was a legend at the Canidrome Ballroom in Shanghai, a city whose nightlife, as evident from the clip above, was vibrant and had a famously notorious reputation across the world.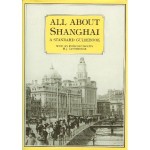 Shanghai was a thriving jazz centre, providing work for scores of bands from the US, Europe and across Asia. "Shanghai flames with millions of flashing jewels at midnight," boasted the All About Shanghai guidebook, from which this ad is reproduced. "Joy, gin and jazz. There's nothing puritanical about Shanghai."
This recording is from the Marco Pacci collection. Weatherford plays piano and sings on this track. For more Weatherford recordings, click here.