"I'm a 'dance' band drummer, always was, and always will be." That's what 87-year-old Roy Holliday declares on his Facebook page, and the way he's playing the drums in that clip, it's clear that he intends to keep beating the skins for a long time to come. Holliday lives in the UK and stumbled upon the Foxtrot website because he was trying to locate Indian jazz musicians he met in the hill station of Mussoorie in the summer of 1947, months before Partition. He'd come to India earlier that year as a member of the Royal Air Force.
He's been kind enough to let me reproduce a section from his as-yet-unpublished memoir: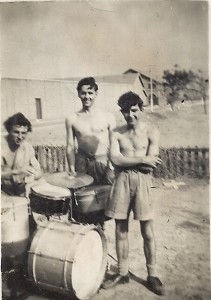 "India was a revelation, from the moment we landed the air was filled with exotic sights, sounds and smells. Our first two days in Bombay were spent aboard the ship as the transit camp at Worli was not ready to receive us. We were however allowed ashore to do some sight-seeing and I even managed to escape the heat in an air-conditioned cinema. But we were not prepared for the poverty and the sight of thousands of people sleeping in the streets.
There were many other cultural changes for us and at our transit camp we became acquainted with the old colonial system which was still in operation at that time. We were allocated to billets each containing 16 beds, with two Indian servants or 'bearers' to clean our shoes and press our uniforms. The days here were spent in idleness, after a morning parade and breakfast we scanned the notice board to see if the daily orders contained details of our postings, and if your name did not appear, the day was yours to spend as you pleased. Many of us passed the day at Breach Candy, a swimming pool with a bar and waiters to bring ice-cold drinks to your reclining chair at the poolside.
more…