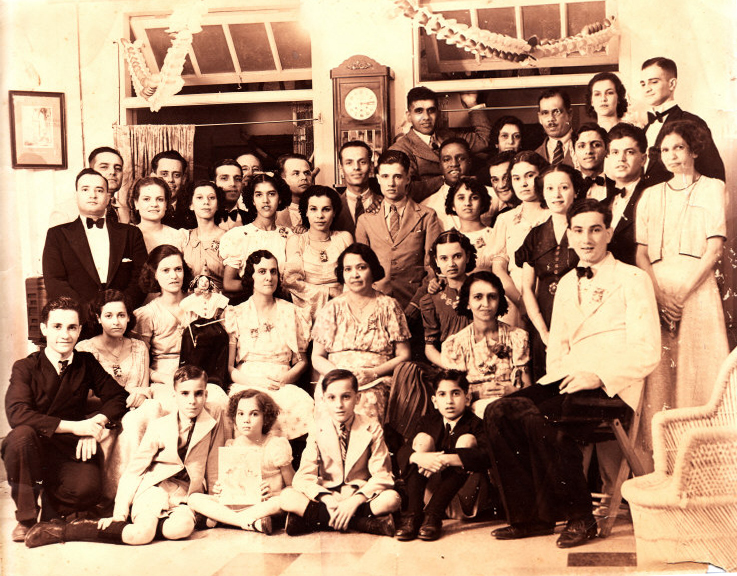 This photo of mid-1930s Bombay was taken in the home of the Hutson Sisters, whom I wrote about here. It was sent to me by the wonderful Maxine Steller, a cousin to the Hutsons. She's the little girl in the front row. Here's what she says about the photo:
"When you see how small I was, you will realise why I don't have many memories of those days.  My Dad [Bill Taylor of the Bombay Police] is behind Sybil [Hutson], and Merlyn [Hutson] is under Sybil holding a witch (it must have been a Halloween party).  Next to Merlyn is my Mum , then Mrs Hutson. Below them is my brother Desmond, myself and my brother Cedric.  Young Billy Cooper is sitting next to Cedric.  Billy's mother is sitting above him.
  Look at the clock, they had been telling ghost stories and frightening the life out of me.
  The fourth gentleman in the row where Dad is standing (you can only see his glasses) is Mr Mollenoux, who was Thomas Edison's apprentice when he invented the electric light.  He came to our school, Christ Church High at Byculla and told us the story in a science class.
 Bill Cooper Snr is up near the clock holding on to the window and [the African-American pianist] Teddy Weatherford is just below him.
 Around that time, Mr Cooper made Dad a lamp shaped like a Bombay police sepoy standing under a light.  His face is a coconut.  Unfortunately, it is too large to post (about two feet high)."
To accompany the image, here are two Teddy Weatherford tunes from the Marco Pacci collection. The vocalist is Bob Lee, a US Air Force recruit who found himself in India during the war.
And then you kissed me by TEDDY WEATHERFORD and BOB LEE by Taj Mahal Foxtrot
Marianne by TEDDY WEATHERFORD and BOB LEE by Taj Mahal Foxtrot