Mexican magic by KEN MAC by tajmahalfoxtrot1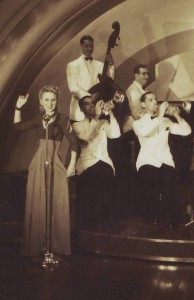 A few weeks ago, Christine Holmes left a note on my site that added more details to this article:
"Beryl Templeman was my mother-in-law. She died at age 62. Usually at private parties she sang for Aly Khan, Maharajah of of Cooch Behar and Nizam Hyderbad while in the East. The actor Jack Hawkins urged her to join ENSA. By then, she had already made over 100 records for HMV and had her own radio show with All India Radio.
"She was awarded the Burma Star by the Duke of Edinburgh. She also worked for the American Forces Radio Network in Germany.
"Returning from India she performed at the London Palladium with Ted Heath, toured with Roy Fox and appeared regularly with Jack Jackson at the famous Churchill's Club in London and at that time was sharing a flat with her friend, Pearl Carr.
more…