Constantly by REUBEN SOLOMON AND HIS JIVE BOY by Taj Mahal Foxtrot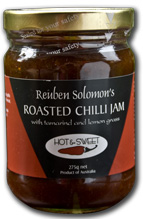 A few months ago, I wrote this piece about Reuben Solomon and his Jive Boys, the band headed by a Baghdadi Jewish clarinet player from Burma who trekked to Calcutta during the Second World War and recorded prolifically in India. Two guitarists from the Rangoon outfit, Cedric West and Solomon's cousin, Ike Issacs, went on to significant jazz careers in the UK and beyond.
A few weeks ago, thanks to Lana Whitney, the Rudy Cotton fan who left a message on this site, I've been in touch with Solomon's wife, Charmaine Solomon – a best-selling cookbook writer who is credited with teaching Australians how to make Asian food. She's authored 31 cookbooks, among them the very influential The Complete Asian Cookbook, which sold more than a million copies and has been translated in five languages. She also sells a range of spice blends and marinades – the intriguing Reuben Solomon's Roasted Chilli Jam, among them.
Reuben Solomon was born in 1921 and died three years ago in Australia. But a few years before his passing, he told his wife the story of his life. Over the last week, she's patiently transcribed it for me. Here's Reuben Solomon's amazing story, in his own words:
"I remember the abdication of Edward VIII in 1936.  Shortly after that we returned to Rangoon as, with Dad's deteriorating health and circumstances, they could not afford boarding school fees.  We no longer lived in the elegant three-storey house in Godwin Road, but in a much more modest home in Keighley Street.  I finished my schooling in Diocesan Boys School in Rangoon. That was the year I started learning clarinet – and old, battered, metal instrument (ex-Army issue) which was, to say the least, not easy to learn on. But once I had blown my first note, I was hooked.  This sound became more important to me than anything else.  I would practice for hours each day, until sometimes my lips would bleed.
At that time we would get together with nephew Ike Isaacs and brother Saul and a few professional musicians and try to emulate the sounds of the Hot Club of France, sans violin.  We had a group called the Jive Boys, comprising my nephew Ike Isaacs, my brother Saul and Cedric West on guitars, Paul Ferraz on bass and myself on clarinet and sax.  We used to broadcast on All India Radio in Rangoon, as in those days Burma, India and Ceylon were considered one entity – India.  I finished school in 1937 with a pass which meant I could attend University.  I did one year of a science degree, but decided it was more to my liking to play music. I remember Ike saying that I was supposed to be studying science but the call of B-flat was too strong. My first job was deputising for a musician in a night club, starting at 10pm and playing until morning – the sun was up when I left.  How to stay awake at lectures after such a night?