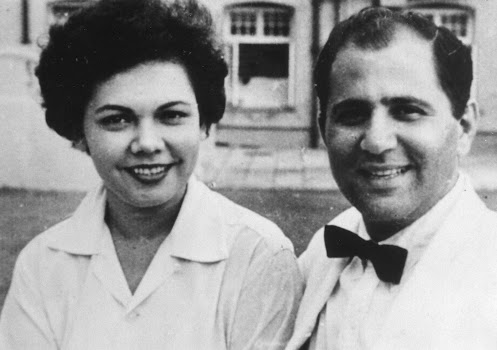 This is the second part of the Reuben Solomon story, as he told it to his wife, Charmaine Solomon, the famous cookbook writer. The first part was published last week. You can access it here.
Shoo shoo baby by REUBEN SOLOMON AND HIS JIVE BOYS by tajmahalfoxtrot1
COLOMBO, CEYLON
The contract with Sacha and his Melodists was a plum job.  My contract included accommodation and full board.  Linen was changed every day and fresh cakes of soap provided, just as for the hotel guests.  White-clad servant boys came running if we wanted so much as a glass of water.  We had a nanny to look after our daughter Mozelle, and life was good. The orchestra was made up of excellent musicians of many nationalities and, in addition to the dance music, offered the challenge and stimulation of playing classical music at the regular and well attended Promenade Concerts.  The working hours gave me enough free time to play chamber music with the Ceylon Music Society and the Ceylon Symphony Orchestra.
On Radio Ceylon, I presented a popular music programme every three weeks, alternating these with classical broadcasts. I started a small advertising agency, writing and performing jingles for various firms. One of the jingles I wrote and recorded for Volkswagen cars, won an award in Germany and continued to be broadcast for many years.  My six-month contract with the hotel kept on being renewed, and I stayed in Ceylon for a total of nine years.
During this time, despite the comfort of life in a luxury hotel, my marriage with Bonnie was on the rocks.  She left to go back to Calcutta and divorce was the only solution. Not long after, Charmaine (whom I had met before, briefly,) returned from an extended study trip to England. Since in a small town like Colombo everybody know what everybody else is doing, I heard she was back.  I phoned and asked her to go to a concert with me.  Like the well-brought-up young lady she was, she refused.  When I said that Bonnie and I were being divorced, she tried to talk me out of it, saying that this was not the best option, since she knew the trauma of being the child of divorced parents.  Mozelle was just about the same age she was when her parents split.  I did not tell her our problems, but convinced her that it was better for Mozelle if Bonnie and I didn't try to stay together  and the divorce went ahead.
Eventually Charmaine decided she liked me enough to accept my invitations.  Though she gently turned me down the first time I proposed marriage, I persisted and as you can see she changed her mind. We have had 42 wonderful years together, four beautiful children and two adorable grand daughters and two grandsons. [Update from Charmaine: We eventually had 53 beautiful, love-filled years and now have a fifth grandchild, named Ruben (the spelling is different, because his mother is German and if spelled Reuben would be pronounced 'Royben')].