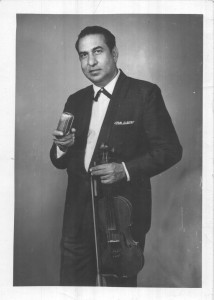 In the Bandra of my youth, there weren't many vehicles around, and the few that did happen to rumble by to interrupt our games of street hockey were almost uniformly Fiats or Ambassadors. It's no wonder, then, that the Bajaj Matador van parked in St Peter's Colony always got a second glance from pedestrians on Pali Hill Road. Everyone knew the owner. If you didn't, a sign on the side of the van made his identity clear: amidst a cascade of musical notes was the declaration, "Music grows where Maurice goes."
Maurice was, of course, Maurice Concessio, the trombone player with the warm baritone voice whose band played at everyone's weddings (including my parents'), in addition to being a staple of Christmas, New Year, Republic Day and Independence Day dances at gymkhanas across Bombay. Concessio had ridden out all the changes in musical taste. For a long time, his band was called Maurice Concessio and the Swing Sensation, but when I was growing up, it was known as Maurice Concessio and the Rock Sensation.
When I interviewed Concessio in 1991, six years before a heart attack claimed him at the age of 79, he told me that he'd developed his passion for music as a boy after finding a violin with a single string in the attic. "I fiddled while the family hearth smouldered," he chuckled. Trombone lessons followed. Though he soon attained great proficiency on the instrument, he couldn't screw up the courage to turn pro and face accusations of having turned the house of his father, a respected doctor, into a bajawala ghar.
Instead, he decided to cash in on his talent for billiards and seek a job at the Bombay Port Trust as a sportsman. But by the time he got to his twenties, the call of music proved too strong. "I realised that if I didn't become a musician, I'd become a bum," he said. He served an apprenticeship under the batons of several noted Bombay leaders – Ronnie Osmond, Chic Chocolate and Goody Seervai – before striking out on his own in 1963. He worked on the irresistible logic that "no one would pay Maurice Concessio more than Maurice Concessio".
A large part of Concessio's appeal sprung from his irrepressible sense of humour. He was noted for his spoof on From Russia With Love, which he turned into Don't Rush Her in Love. He also had a ditty about a cabaret performer who was famous for her Dance of the Seven Bells. "She had two on her ears, one on her nose and two on her toes," he would sing. Then, confident that he had the attention of his audience, he would conclude, "She has two more bells but don't ask me where – her mother knew her daughter so hung them there."
In 1955, Concessio started the Have a Heart Club, whose members would gather to let off steam by making music. It ran until 1974, with these objectives: "to foster a spirit of goodwill, cooperation and good cheer among members", as well as "to spot talent and encourage it". In 1991, the club staged a brief revival. Over the years, Concessio put out four cassettes, featuring his swing-tinged ballads. But his most popular song was this one, called Ritabelle, written about Raj Kapoor's daughter. It was composed by the Parsi bandleader Mina Kava, who lived around the corner from Concessio. It was the B side of Kava's big hit Bombay Meri Hai and, when it was released in 1969, it accomplished  something no Indian pop record in English had done. Concessio told me, "It brought me lots of royalty cheques."
Ritabelle by naresh fernandes