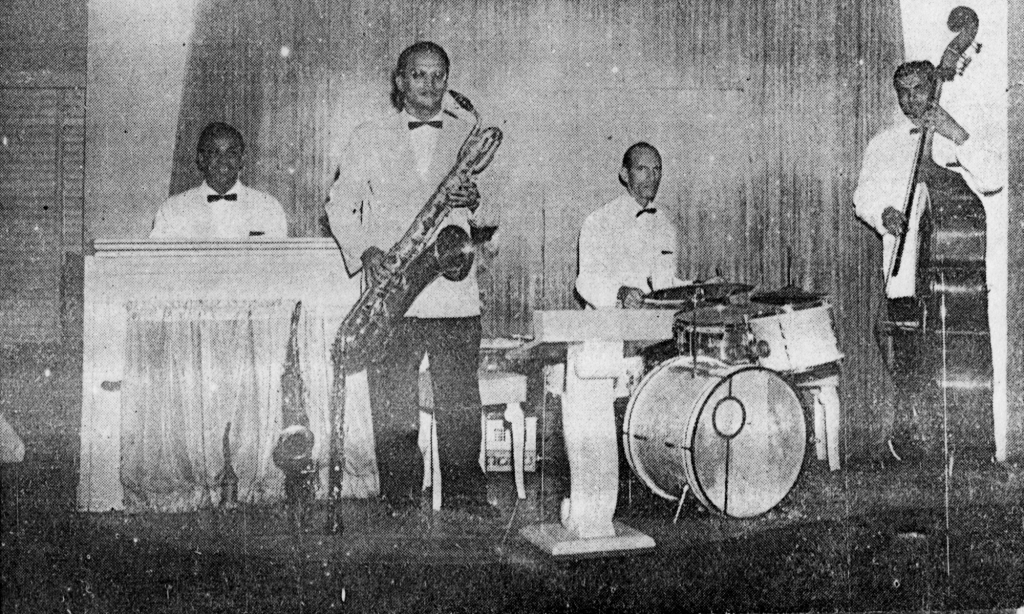 One of the biggest mysteries about Hecke Kingdom, who cut a distinctive figure on the Bombay jazz stage in the 1950s and '60s with his enormous baritone saxophone, was how exactly he pronounced his name. Was the "e" supposed to be silent? As it turns out, you could call him whatever you liked. Though his family didn't pronounce the "e", his fans often did. But whether they called him "Heck" or "Heckey", as concert brochures routinely spelled his name, most people knew one thing about him: that he was a very talented musician.
Hecke Kingdom's admirers included sitar maestro Ravi Shankar, who had this to say about him in the American jazz magazine Downbeat in 1965: "He's really outstanding…He writes original things also." A decade earlier, Cecil Mendoza, the music critic of the Sunday Standard, had heaped praise on Kingdom after his quartet performed at a concert featuring seven bands at the Eros Theatre. "Hecke Kingdom's Quartet played with Fine Gusto," trumpeted the headline. The article added that of all the bands on display that evening, Kingdom's quartet was "the most compact dance unit and it is a major tribute to his courageous attitude in not augmenting his orchestra as the other band leaders did".
Like so many other Bombay jazz musicians of the time, Kingdom lived in Bandra, in a one-storey villa on the corner of Veronica Road. He made his debut at the Bandra Gymkhana in 1947 and, as an article in the women's magazine Trend noted in 1958,  in the era of big bands, Kingdom was "quick to foresee that small groups would be the order of the day and cut the size of his original band to a mere four piece".
Born in 1910, Kingdom started playing music at the age of 16, when his parents bought him a clarinet. He took lessons from a musician in Parel and, even as he joined the railways, began to sit in with the Merry Warblers, the top-notch band led by Joe Theodore of Vile Parle. He later went on to lead the band, before breaking away to start his own outfit.
His daughter Jean Kingdom, who became a noted Western classical singer in Bombay before emigrating to Switzerland, gave me a hand-written article she'd composed about her father. "I still remember the jazz magazines that my father loved and subscribed to – magazines like Blue Rhythm, Downbeat, packed with interesting information about even the Soviet jazz scene with great Soviet jazzmen like Leningrad's Seven Dixie Lads, Gennadi [Goldstein] and Lev Boldirev, with their hopes of lifting the Iron Curtain," she recalled.
Some of those magazines would be passed on to the young musicians who often dropped by Kingdom's home for advice and lessons. Sometimes, visiting musicians made their way to Bandra. Jean Kingdom says that she came home from school at St Joseph's Convent one day in 1958 to find a bunch of Americans smoking funny-smelling cigarettes in the kitchen. They were, she says, Dave Brubeck and his band, and they were on a tour through Asia.
Hecke Kingdom's original quartet, pictured above, consisted of Tony Nunes on piano, Percy Issac on bass and Percy Dias – who is now in his nineties – on drums. "The teenagers adored his style," Jean Kingdom recalled.
The saxophonist had a long contract at the Ambassador Hotel in Churchgate and in 1954, when Volga restaurant opened down the road (opposite present-day Akbarally's), his quartet began a lengthy residence there. "Volga used to have a tea dance session everyday at 4 to 6 pm," jazz fan Gordon Rodricks told me. "Hecke played dance music and popular numbers, during those sessions eg Artie Shaw, Edmundo Ross, Perez Prado, Xavier Cugat etc etc."
In 1962, he was playing at Volga on Delhi's Connaught Circle, this time with Issacs on bass and Richie Marquis on piano. His drummer Max Mascarenhas was noted for his "chocolate voice" and fondness for Nat King Cole tunes. According to Delhi Diary, a listings booklet that seems to have been a forerunner of Time Out, "The presence of this quartet has in an insidious manner raised the standard of band playing in the capital and made restaurant-goers more discriminating in their choice of live dance music."
Hecke Kingdom died in 1987. Wrote his daughter, "Dad's letterheads have printed on them, 'the gentleman with the saxophone' – and that could not have described him better."  As far as I can tell, Hecke Kingdom cut only two songs in his career – a 45RPM made in 1968 with Usha Uthup singing the pop standard Green Back Dollar on one side and this driving version of Jambalaya on the other.
Jambalaya by naresh fernandes