One evening in 2007, as I wrapped up a presentation at an art festival in  Panjim on the role Goan jazz musicians had played in bringing swing to the Hindi film industry in the 1950s, a woman came up to me with tears in her eyes. "You played a track with my mummy on it," she said.
Her mother, I knew immediately, was the pioneering pianist Lucilla Pacheco. In the 1940s, Lucilla Pacheco was one of the few women on the Bombay jazz scene, playing in the all-star band of Mickey Correa at the Taj Mahal Hotel and with the Anglo-Indian band leader Ken Mac. She later joined the Hindi film industry, and performed regularly with the arranger Anthony Gonsalves. But she isn't remembered merely for being a woman in a man's world. In the 1960s, she introduced the Hindi films to their first electronic instrument: the Solovox.
I was surprised that I hadn't run into the Pachecos earlier. For more than three decades, they lived on the same floor as my great-grandmother and one of my aunts in Liberty Flats on Hill Road, in the Bombay suburb of Bandra. But perhaps because the Pachecos' flat has to be approached by a different staircase, it took a random encounter in Goa for me to come into contact with a family that had shared a wall with my family for much of my life. As it turns out, Lucilla Pacheco's daughter, Jenny Blanche, knew many of my cousins. She put me in touch with her brother Alvino Pacheco in Bandra, and, over the next few years, he generously shared memories of his family's musical life and put me in touch with his musician-cousins spread out around the country, in Calcutta and Delhi.
Lucilla Pacheco's family history makes it clear that the gharana tradition isn't just restricted to performers of Hindustani classical music. Performing music was a family occupation for many Goans too. But unlike the Hindustani gharana tradition, which values stylistic continuity, the Goan musician-families showed a remarkable enthusiasm for adopting each new style of Western music that became popular. From Western classical music to light opera to jazz (and later rock and roll), they grabbed it all, sometimes mastering several different genres of music over the course of a single lifetime.

Before she married the saxophonist George Pacheco, Lucilla was a Menezes, born to a family from Sao Mathias, a village on Goa's beautiful Divar island. Her maternal grandfather was a violinist who went by the nickname "Rogddu", while her paternal grandfather was known by the instrument of which he was a virtuoso – "Boncao", the Konkani word for double bass. But her father, Mathias, moved to Colombo in Ceylon, where he taught music and ran an instrument shop. Mathias Menezes is said to have 600 pianos, which he rented out all across the region. He would sail to the Maldives and Mauritius to deliver pianos and tune them.  He was said to have been a strict taskmaster but he earned the affection of three generations of Sinhalese students of Western classical music, who knew him fondly as Papa.
Over the last 60 years, the Menezes family have been pillars of the jazz scene in three cities: pianist "Baby" and vibraphonist Anto Menezes in Calcutta, pianist Mohsin Menezes in Delhi and, of course, Lucilla in Bombay.
Lucilla Pacheco moved to Bombay in 1948, the year after she married George Pacheco, who hailed from the village of Piedade, on the other side of Divar island. He'd been sent to Colombo to apprentice at her father's shop. In their early years, the couple lived in Sargent House in Colaba. She had passed the classical examinations conducted by both the Trinity College of London and the Royal College of Music and started her professional life in Bombay giving piano lessons. Soon, she was accompanying films at the Metro theatre and, between shows, worked as a music demonstrator at the Furtado's music store opposite. In an era when many people bought sheet music to play at home, Pacheco would perform the scores they contemplated purchasing, to show them how good the tunes could sound.
It wasn't long before she was invited to join Mickey Correa's band, a  legendary dance band that proved to be the nursery of the city's best swing musicians over the next two decades. She then worked under the baton of such top-flight leaders as Ken Mac and Chic Chocolate. On the side, she was a regular member of the Bombay Swing Club "Ork", an outfit that had been started by jazz musicians and fans at the end of 1948 to prove that jazz wasn't merely dance music. The BSC aimed to be a "show-window of swing" that would allow musicians to demonstrate their talents "to best advantage and to spread the taste of this truly international language", explained one club brochure. She was a darling of both the crowds and the critics. Reporting on one of AIR's regularly Monday night swing music broadcasts in 1955, the Free Press Bulletin noted that "pianist Lucilla Pacheco cornered the glory for a brief spell when the band went into I Remember April".
Lucilla and George Pacheco had made a decision never to work in the same band so that they could minimise friction, though, their children noted ruefully, the couple had a tempestuous marriage. As her husband took to performing on cruise ships, Pacheco started spending most of her time in the Hindi film studios. "She must have had a hell of a time in that world of men," her son Alvino suggested. "She probably had to put up with crude remarks all the time."
In the mid-'60s, Pacheco caused a sensation in the studios by becoming the first player of an electronic instrument, an electronic keyboard called the Solovox. Her husband had bought it on one of her trips abroad.
Lucilla Pacheco spent her last years giving music lessons on Hill Road. Shortly before she died 1989 at the age of 60, the Goan writer Mario Cabral e Sa suggested that she should let him write her memoirs. "On no, Mario," she said. "Please don't.  I've forgotten all my music. In the kind of music I now do, all you have to do is produce some kind of noise."
Here's the recording I played at the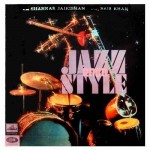 presentation in Goa that made Jenny weep. It's Raga Todi, from the 1968 album Raga Jazz Style by the film composers Shankar and Jaikishan.