Despite the perception that it is a staid, uncompromising form, Carnatic classical music has been remarkably adventurous about incorporating new instruments into its fold. The violin seems to have made its appearance in Tamil Nadu in the late eighteenth century and, by 1824, the maharaja of Ettayapuram, south of Madurai, had appointed Baluswamy Dikshitar (younger brother of the famed composer Muthuswamy Dikshitar) as his court violinist.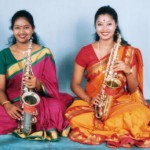 Since then, writes the musicologist Amanda Weidman, the violin not only become "a vehicle for conveying Carnatic music to modernity", it's also come to be seen as essential to preserving Carnatic music's authenticity".
Over the years, other Western instruments have made their way into Carnatic music, notably the mandolin, the guitar and the clarinet.
Though the sari-clad Saxophone Sisters — MS Lavanya and MS Subbalaxmi — have been attraction attention recently, the saxophone isn't really capable of expressing the nuances of Carnatic classical music. The problem, as singer TM Krishna explains in his recent book, A Southern Music, is that the reed instrument isn't able to render gamakas, or ornamentations, that characterise the form. "This has led to saxophone-using musicians rendering only ragas with relatively less gamaka, thus limiting their own exploration of the music," he writes.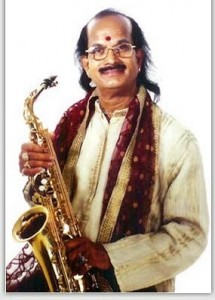 The best-known Carnatic sax player, of course, is Kadri Gopalnath, who gave his first concert on the instrument in 1977. He started studying the nadaswaram with his father, but fell in love with the saxophone at 15. Though his father didn't think the instrument could be used to play Carnatic music, he bought his son a second-hand instrument from the police band for Rs 800.
But Kadri claims that even he had predecessors.  "I myself knew the saxophone artiste Sri Lakshminarasimhaiah of the then Mysore Palace Band, now playing in Brindavan Gardens," he told one interviewer.
Though he has modified his instrument, he admits that it isn't perfectly suited to the form he loves. "I have knowingly accepted a range reduction effectively," he said, adding that he usually plays in the convenient key of B flat. Despite these limitations, he says, "gamakas and other nuances peculiar to Carnatic music can be effectively produced" on the instrument.
Here's what he sounds like.

The most prominent Western musician who has attempted to use Carnatic nuances in jazz is Charlie Mariano, the American alto player who fell in love with the nadaswaram on a trip to Malaysia and pursued his dream sound to Bangalore, where he worked extensively with the Karnataka College of Percussion, headed by TAS Mani and his wife RA Ramamani. Mariano even wrote a book titled An Introduction to South Indian Music.