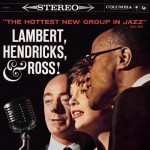 In 1962, Lamberts, Hendricks and Ross were the most famous jazz vocal group in the world. They'd made their reputation launching bop classics at the audience with the speed of a rocket. Their trademark style was called vocalese: they sang the intricate solos that instrumentalists usually played on these songs, in quicksilver three-part harmony. For four years from 1959, they were voted the best jazz vocal group by Downbeat's readers.  When Annie Ross left the group in 1962 because of health and personal problems, Jon Hendricks and Dave Lambert had to quickly find a replacement so that they could honour their concert commitments. Somewhat improbably, Ross's substitute was a sari-clad woman: Yolande Bavan, a Sri Lankan Burgher as the descendents of the island's former Dutch colonisers are known.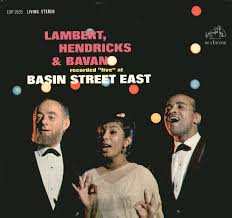 A few months later, Lambert, Hendricks & Bavan: Recorded Live at Basin St. East hit the stores. In the liner notes, producer George Avakian recounted how Bavan had come to the attention of her new band mates. "[Dave and Jon] met Yolande while she was in London and found that she was a fan of the group's and had learned several of their intricate arrangements just for fun," he wrote. "When a serious illness incapacitated Annie Ross a week or two later toward the end of their European tour, Dave and Jon returned to the States without her. After starting their U.S. engagement, they decided they had to take a chance on Yolande. She arrived just in time for a concert at Union College in Schenectady, New York."
The group would record two more albums: At Newport '63 and Havin' a Ball at the Village Gate the next year.
Bavan, who was born in Colombo in 1942, grew to appreciate jazz by listening to short-wave radio and to records.  At the age of 16, she went to Australia and began to sing with the band of pianist Graeme Bell. Eighteen months later, after touring Australia and Japan with the band, she returned to Sri Lanka. But finding that there was little opportunity to make a living from jazz in her home country, she set out for the United Kingdom. Her old boss Bell helped ease her way into the London jazz scene by writing an introduction to the British trumpet player Humphrey Lyttelton.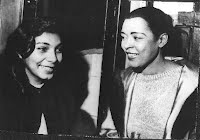 A few months later, she befriended the legendary Billie Holiday while on a trip to Paris. The older woman took Bavan under her wing, giving her advice on her art. "Always tell the truth," Holiday urged Bavan. A mere 19-year-old without any experience of Holiday's rough-and-tumble battles with drugs and cheating lovers, Bavan says she reached to bitter memories of her parents' divorce to find the emotional depth she needed to sing the blues.
Singing with Lamberts and Hendricks, Bavan was always clad in a sari. "I wore saris because they were comfortable and were part of my culture," she told one interviewer. "They also distinguished me, setting me apart, and attracted quite a bit of attention."
After three years with the group, Bavan quit to pursue a career as an actress. Her US music stint didn't last long, but it ensured her place as the most prominent subcontinental musician to make jazz. Click here for her official site and here for a detailed interview Bavan did with the website Jazz Wax.