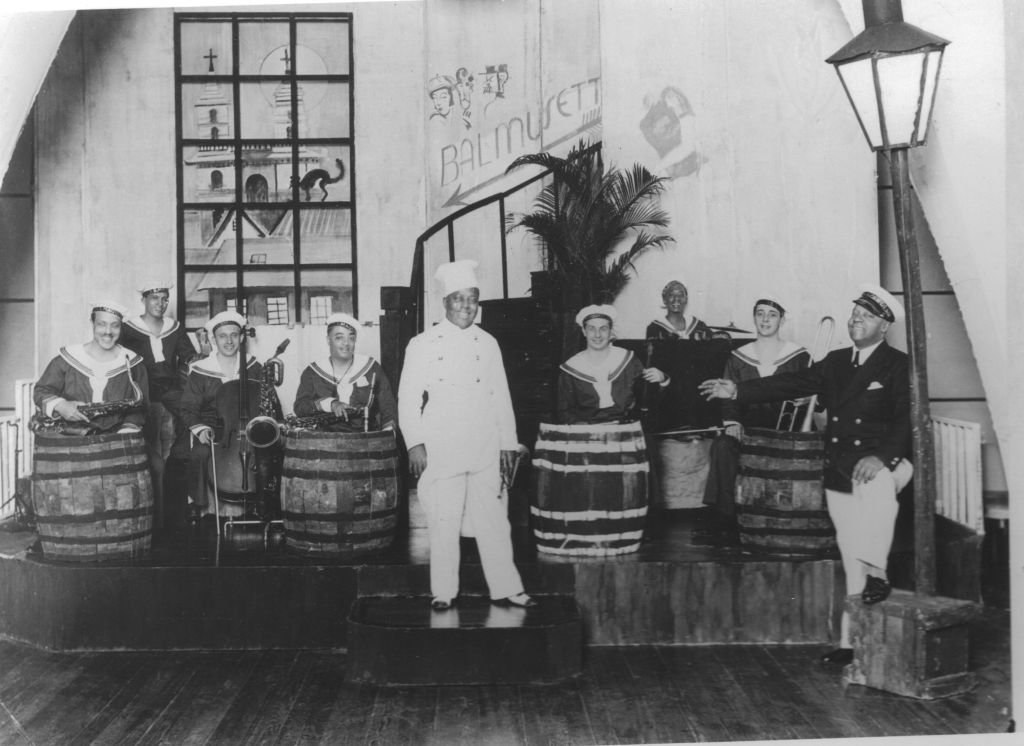 Taj Mahal Foxtrot by naresh.fernandes
A recent report about Stanley Kubrick's unmade film about the persecution jazz musicians faced in Nazi Germany reminded me of the man in white in the photo above, Creighton Thompson, who sang Taj Mahal Foxtrot, the tune from which this website and my book take their name. As regular readers of this site know, the tune was a perfect example of Bombay's multiculturalism of the 1930s:  it had been composed by a Bombay Jewish man named Mena Silas and recorded by a band led by the African-American trumpet player Crickett Smith. Chicago-born Creighton Thompson came to Bombay from Europe, where he had been performing since 1920. But early in the 1930s, he and other African-American performers were forced out of Germany as Nazi policies forbade non-Aryans from appearing on the radio and from theatres.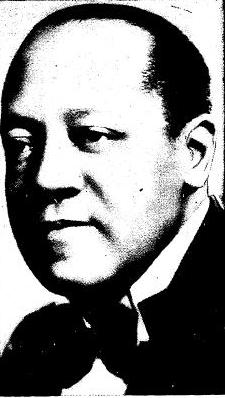 By 1934, Thompson was singing with Jos Ghisleri's band at the Taj Mahal Hotel in Bombay, one of many people in the city fleeing Nazism (that number included a Jewish musician named Walter Kaufmann, who would compose the All India Radio theme tune). Thompson won instant acclaim. "Creighton Thompson, it is no exaggeration to say, created a sensation, for though described as a baritone, he possesses an extraordinary vocal range, extending over two complete octaves," The Times of India enthused on October 8, 1934, shortly after the opening of the new music season. Thompson had performed light classical numbers, Negro spirituals and jazz tunes.
By the next week, he had Bombay eating out of his hand. "Creighton Thompson, than whom Bombay has never heard a better singer, presents his numbers in a quite novel way," gushed the Times. "He first sings to his audience, then, stepping on to the dais, invites his listeners to dance to his next song. The dancers, however, become so entranced with his voice that it is usually some time before they can divide their interest between his singing and their dancing."
Though he well knew the sting of racism, Thompson and his fellow musicians seemed to have little option by to traffic in the stereotypes of African-Americans that prevailed in Bombay and other parts of India. In November, 1934, Thompson and the other members of the orchestra put up a Plantation Gala Night, to "transport the guests into the scenery and atmosphere of the south of the United States". Using the condescendingly racist language of the period, the Times elaborated,"From one's earnest recollections, American negroes have been connected with cotton fields and plantations – recollections aroused by books like Uncle Tom's Cabin and kept alive through many generations by ditties like Swanee River and Poor Black Joe etc."
The Gala intended to evoke "stories of these old days, when the plantation hand's chief pleasure was music, both instrumental and musical, still hold a fascination for both young and old and one instinctively connects and banjo and the singing of 'spirituals' with the coloured people of the Southern States, whose quaint phraseology and manner of speaking have long disappeared before the advance of education".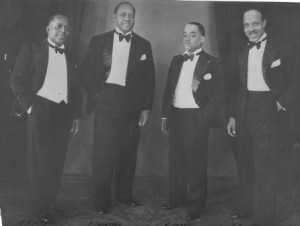 Crickett Smith, Creighton Thompson and the saxophonists Rudy Jackson and Roy Butler also put on a sketch called A Night Down South, which allowed them to sing spirituals.
After that first season, Thompson travelled with the Crickett Smith and several other musicians to Ceylon, Malaya, Singapore and Java. Upon their return in 1936, they resumed their duties at the Taj, to Bombay's great approval. They recorded Taj Mahal Foxtrot that April.
In June, 1936, the Taj threw a ball to bid farewell to the Indian hockey team on its departure to the Berlin Olympic Games. The Mayor and the Sheriff were present, as was Karl Kapp, the German consul and several members of Bombay's German community. Kapp said that Germany hoped that the Olympics would "act as a stimulant for peace and prosperity throughout the world". After his speech, Creighton Thompson, the man who had been expelled from Nazi Germany, led Crickett Smith and his band to perform a special foxtrot composed by Mena Silas dedicated to the Indian Olympic team. (It must have worked: they came back with a hockey gold.)
Thompson seems to left Bombay at the end of 1936, returning to the Continent, where he'd made his career since the end of the First World War. He gone to France as part of the legendary Red Devils, who were among the first black bands in peacetime Europe, many of whom were attracted by the lack of racism in France and the French enthusiasm for black music. Thompson was a versatile musician. Though he was the drummer with the Red Devils, he soon made his reputation as a vocalist, singing gospel and classical music. His recording on the hit tune Jazz Baby, with the James Reese Europe band in 1919, had already established his reputation on the Continent [listen here]. He soon became known as "Le Celebre Chanteur Americain".  Newspapers list performances as far afield as Paris, Berlin, Budapest, Athens, San Remo and Constantinople.
But his cozy world fell apart in October, 1939, when the American ambassador William Bullit issued a warning giving African-Americans were given 12 hours to leave Europe. "We are to repatriate all Americans to the fatherland," Bullit said. "Take it or leave it."
The result, said The Chicago Defender, was the wholesale exodus of hundreds of African-American men and women who had been made their lives as musicians on the Continent since the end of the First World War. "Europe is ideal," Thompson told The Chicago Defender as he returned home. "I'd never live in any other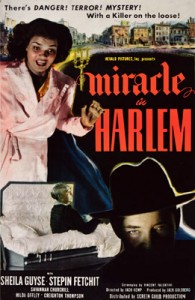 place." He said that if the Nazis hadn't intervened, he wouldn't have any reason to come back to the US because he was "doing all right and satisfied". But suddenly, all businesses and employment were shut down and martial labour restrictions made employment contracts null and void.
Despite the trauma of being displaced from Europe, Thompson's career didn't lose much steam. After two decades on the Continent, he even remarried his former wife, the actress Hilda Offley, who'd refused to move abroad with him. He appeared in several landmark Broadway productions and at least in one film, Miracle in Harlem, in 1948, which also featured Offley. Thompson played a preacher named Reverend Jackson– and did a little singing too. Creighton Thompson died in 1980 in New York.