Was Amru Sani the first Indian to make it in the exalted world of American show biz?  In the 1950s, Sani had a brief streak of fame in the US, appearing in a Broadway revue and cutting a bunch of popular records. In 1953, when Sani was booked for an assignment in Hollywood nightclub called Ciro's, the New Journal and Guide described her as "India's Lena Horne". It was clear that she'd made quite an impression her audience. "The Hollywood nightclub male habitués responded to this Indian love call – Bombay, India, that is – in such large numbers that Amru is assured of success on her American tour," the paper gushed. It added her name meant "goddess of love".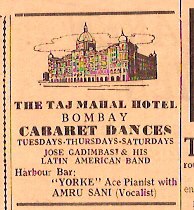 A few months earlier, Variety magazine was all praise for her stint at Statler's Embassy Room in Washington. "She has a regal bearing and generally carries herself almost ramrod stiff with her arms at her sides and slightly bent backwards. Occasionally, she lifts her hands in clawlike motions for emphasis," Variety wrote. "She is a sultry stylist, holding herself somewhat aloof from her audience and with a theatrical sophistication which should do well in class rooms like this. Voice is husky, often sinking to a low softness, sometimes rising to a shout."
Variety had another theory about Sani's origins. It said that the "tall, svelte stylist…with black hair and snapping dark eyes" was the "daughter of an Indian import-export businessman and Panamanian mother".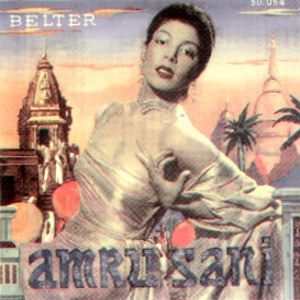 However, when Sani appeared at the Taj Mahal Hotel in Bombay in the winter season of 1948-'49, singing Latin American songs with the Jose Gadimbas band and a Jamaican pianist from London named Yorke D'Souza, the hotel's publicity material didn't claim her as a local girl. Instead, a hotel brochure took pride in noting that she had recently performed in the UK with Geraldo and his Band.
Evidently, Sani didn't do much to clear up the confusion. In various interviews, she claimed to have been born in Panama, to have grown up in India, to have been educated in Europe, and to have served as an airplane mechanic in England during World War II because she was too young to become a female pilot.
Perhaps the most credible explanation of Sani's origins come from the Gleaner, published in Kingston, Jamaica. In 1943, the paper noted that Sani "was going to England shortly" to join the Women's Auxiliary Air Force. The article listed her as "the only daughter of Mr. and Mrs. M. P. Sani of 10, Lundford Road, St. Andrew", Jamaica. That would mean that Sani was probably the descendent of Indians shipped off to the West Indies to work as indentured labourers on the sugarcane plantations.
Those humble beginnings didn't stop her forging a very respectable career for herself. In addition to her music, stage performances in New York, Paris and Rome, she appeared in at least three films: a spaghetti Western called Maracatumba . . . ma non è una rumba (Italy, 1949), The Naked Maja (1958), and John Huston's The Bible: In the Beginning (1966).  She also made several appearances on the Ed Sullivan television show, including in the episode in which Elvis Presley made his debut.
Along the way, she seems to have had a series of dalliances with some interesting men. In 1960, the Washington Post ran an item headlined, "Playboy's twirling the ring – again." The article said, "Millionaire Peter Howard tells chums he'll marry Amru Sani in Venice later this month. The general reaction is 'rots of ruck' and the betting against it has started already. Peter has been engaged to a variety of beauties ever since he was old enough to pick up a nightclub tab…but he has never made the altar."
A few years earlier, news reports linked Amru Sani to Prince Aly Khan, the Aga Khan. "Nothing to it," Sani told a reporter, explaining that she had merely met him at a party. She added: "I'll take the vitality of an American man any time."
Sources on the internet suggest that she died in 2000. Amru Sani seems to have lived her life with zest, rather like the sauce she describes in this song.