Over the past couple of weeks, this music video of performers at Pakistan's Sachal Studios reinterpreting Dave Brubeck's classic jazz tune Take Five has spread around the world faster than the swine flu. For Western audiences, there's something compellingly exotic about a string section in Pathani suits. But for Indian jazz fans with long memories, this version of Take Five seems to bring it all back home. Ever since the tune was released in 1959, Indian jazz musicians have maintained that Take Five was the direct result of a lesson Indian jazz drummer Leslie Godinho gave Brubeck's percussionist Joe Morello in a hotel room in Delhi in 1958. Godinho, the story goes, taught Morello how to play the 5/4 time signature that is the foundation of Take Five.

To be honest, no one knows whether that encounter actually took place. Last year, I had the opportunity to interview Brubeck, thanks to the good offices of the excellent Nalini Jones. We spoke on the weekend of his ninetieth birthday and, most understandably, the pianist was a little hazy about the specific details of his subcontinental tour more than five decades earlier. But he did recall that Morello was a big hit with the crowds.
For their part, many Bombay jazz fans who attended Brubeck's concert at the Eros Theatre and Brabourne Stadium still remember their excitement at the opportunity to listen to the jazz stars. Among those at the event was enthusiastic angler Gordon Rodricks, who sent me email after my last entry on this website. He attended the concert at Brabourne Stadium and recalled that the organisers had set up a special acoustic shell so that everyone, even those in the distant stands, could hear all the tunes clearly. "Brubeck was a good MC for himself," Rodrigues said. "His comments helped put the music in context."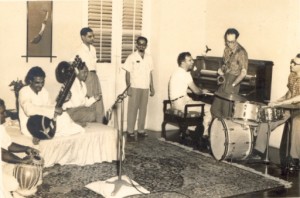 Between their concerts, Brubeck and his musicians sat in with Indian jazzmen who played regularly in the restaurants that lined Churchgate Street (now Veer Nariman Road). One evening, they jammed with the sitar Ustad Abdul Halim Jaffer Khan in the Malabar Hill home of the industrialist Pralhad Mehta, whose saxophone-playing son Nakul generously gave me this photo.
Brubeck later described the encounter in the liner notes of one of his albums: "The Indian musical tradition is far different from ours. It emphasises intricate rhythms and pure melody without harmony. We jazz musicians do have one element in common with the Indian musician – and that is improvisation. We were extremely fortunate to have the opportunity to 'sit in' with some of India's best musicians. Of notable success was our attempt 'to jam' with Abdul Jaffer Khan on sitar and various Indian tabla players. We all left that given a few more days, we would either be playing Indian music or they would be playing jazz."
In an interview with Jazz Journal International years later, Brubeck acknowledged again that his encounter with Abdul Halim Jaffer Khan had significantly changed the way he approached his music. "His influence made me play in a different way," the pianist said. "Although Hindu scales, melodies and harmonies are different, we understood each other…The folk origins of music aren't far apart anywhere in the world."
As was his practice, Brubeck recorded several of these jam sessions and they're stored with his papers in the archive at the University of the Pacific in Stockton California. However, the catalogue doesn't list his encounter with the sitar player. Later in their trip, though, Brubeck and Morello jammed with the mridangam player Palani Subramiam Iyer in the Madras studios of All India Radio. Here's how that experiment turned out.
Jazz meets carnatic by naresh.fernandes