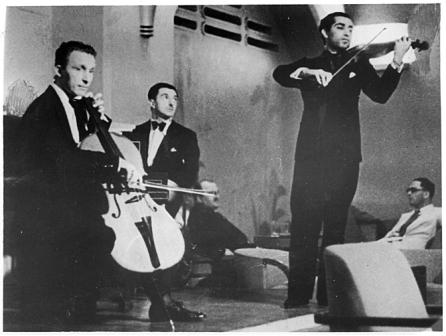 All India Radio Signature Tune by tajmahalfoxtrot1
All India Radio's caller tune has been heard by hundreds of millions of people since it was composed in 1936. Somewhat improbably, the tune, based on raga Shivaranjini, was composed by the Czech man in the middle of the trio pictured above:  Walter Kaufmann. He was the director of music at AIR and was one of the many Jewish refugees who found a haven in India from the Nazis. The violinist on the recording is thought to be Mehli Mehta, who is also in the image above.
Kaufmann had arrived in India in February 1934 and ended up staying for 14 years. Within a few months of landing in Bombay, Kaufmann founded the Bombay Chamber Music Society, which performed every Thursday at the Willingdon Gymkhana. At the performance pictured here, Kaufmann is at the piano, Edigio Verga is on cello and Mehta – the father of Zubin Mehta – is playing the violin. By May 1937, the Society had given 136 performances of works by old masters and modern composers. "Membership of the Society is open to all music lovers," The Times of India reported. Full membership cost Rs 15 a month, but students, working women and missionaries could attend all concerts for only Rs 5 a month.